Singapore, 17 September 2019 – The Government's Haze Task Force (HTF), comprising 28 government agencies and led by the National Environment Agency (NEA), stands ready to minimise and manage the impact of haze on the public.
HTF member agencies have put in place robust action plans, allowing tiered responses depending on the intensity of the haze, which is based on the 24-hour Pollutant Standards Index (PSI) readings and forecasts. The HTF convenes annually in May at the start of the dry season to keep updated on the weather and haze situation outlook and update its plans.
Since 14 September, 4pm, when the PSI in the west of Singapore entered the Unhealthy [1] range, HTF agencies have rolled out their respective action plans and advisories for the protection of the health and well-being of the public, especially the more vulnerable groups such as the elderly, pregnant women, children, and people with chronic lung and heart diseases.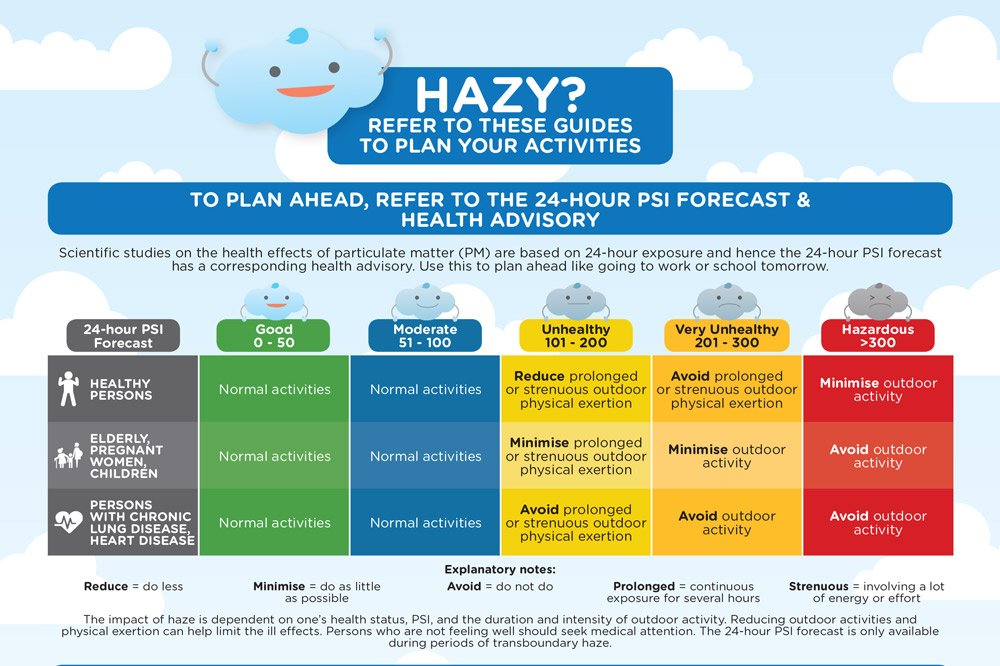 General Health Advisory
The health impact of haze is dependent on individuals' health status, the PSI level, and the duration and intensity of outdoor activity. Reducing outdoor activities and physical exertion can help limit the ill effects from haze exposure. Singaporeans are advised to drink plenty of water to stay hydrated, and those with chronic heart and lung conditions should ensure that medications are on hand and readily available. Vulnerable persons, especially the elderly, pregnant women, children, and those with chronic heart and lung conditions, who develop symptoms or feel unwell, should seek medical attention promptly.
The Ministry of Health (MOH) has reminded our healthcare institutions (including public hospitals, polyclinics and nursing homes) to put in place haze preparedness measures and prepare for any increase in the number of cases of haze-related conditions. These measures include using air purifiers and fans, and reducing ambient temperature by deploying portable air coolers where appropriate. Our public healthcare institutions are also monitoring patients closely for possible health effects of the haze and will institute appropriate medical intervention where necessary.
NEA and MOH have been working with retailers since April 2019 and have stepped up efforts from early September, to ensure stocks of N95 masks are made available in retail shops. Additional stocks have been pushed out to retail shops on 13 September and 15 September. We will continue to closely monitor the availability of masks to the public. We would like to assure the public that there are sufficient stocks in the warehouses and government stockpiles.
N95 masks are not required for short exposure, like commuting from home to school or work, or in an indoor environment. In general, a healthy individual who has to be outdoors for several hours may wear a mask to reduce exposure when the forecasted air quality is in the Hazardous range (PSI >300). Vulnerable persons are advised to avoid or minimise outdoor activity when the forecasted air quality is Very Unhealthy (PSI >200). If they have to be outdoors for several hours, they may reduce exposure by wearing a N95 mask. The elderly, pregnant women and those with severe lung or heart problems who have difficulty breathing at rest or on exertion should consult their doctor as to whether they should use the N95 mask.
Advice for Pre-schools and Schools
The Early Childhood Development Agency (ECDA) has required preschools to monitor the air quality levels and comply with the corresponding health advisories. Preschools should minimise outdoor activities when the air quality is in the Unhealthy range, and avoid strenuous indoor physical exercise and activities for children. These should be replaced with other indoor activities. Children with underlying chronic heart and lung conditions should not participate in physical exercise.
For the general well-being of the children, ECDA has reminded preschools to ensure that there is at least one air-conditioned room with an air purifier to temporarily accommodate children who may become unwell or develop respiratory problems. The health of all children should be monitored closely. Should any child fall sick or exhibit respiratory problems, the school should inform the parents and seek immediate medical attention for the child.
The Ministry of Education (MOE) and schools have in place a school continuity plan to ensure the well-being of students and staff during a haze situation. Schools are ready to respond and take appropriate haze management measures taking guidance from the Ministry of Health's (MOH) advisory (www.moh.gov.sg/haze).
All classrooms of primary and secondary schools, MOE Kindergartens and Special Education schools have been equipped with air purifiers to enhance the well-being of students during a haze situation. Teachers will also be on the lookout for students who are unwell or have pre-existing lung or heart conditions. As children respond differently to haze, parents should ensure their children have their medication, such as inhalers for asthma, with them. Parents should also take their children to seek medical attention if they are unwell and ensure that their children take their medication to school or arrange for alternative care arrangements to care for them at home. For more information on schools' haze management plans, refer to www.moe.gov.sg/haze-management-measures.
Advice for Workplaces
The Ministry of Manpower (MOM) reminds employers to follow MOM's Haze guidelines and tripartite advisories (www.mom.gov.sg/haze) and take the necessary measures to prepare their companies and workforces to minimise or mitigate the effects of the haze. In the event that the 24-hour PSI reaches the Unhealthy range, the measures include:
Reducing prolonged or strenuous work for healthy employees
Minimising prolonged or strenuous outdoor work for elderly or pregnant employees
Avoiding prolonged or strenuous outdoor work for employees with chronic lung or heart disease
Taking risk mitigating measures such as use of mechanical aids, job rotation, instituting indoor rest breaks and ensuring adequate hydration etc.
Safeguarding Singapore
The Singapore Armed Forces and the Home Team Departments under the Ministry of Home Affairs is calibrating the training and outdoor activities of their personnel according to the air quality. Nonetheless, all units stand ready to keep Singapore safe and secure.
Advice for Motorists
In addition to implementing haze mitigation measures for the Land Transport Authority (LTA) and public transport operators' employees, the LTA has also alerted motorists to drive with care and switch on headlights when visibility is low through the Expressway Advisory Monitoring System (EMAS) electronic signboards.
Sporting Activities
The Ministry of Culture, Community and Youth has advised all participants and organisers of sports activities to monitor the air quality and follow the corresponding health advisories. Event organisers should conduct their own risk management with due consideration of the health advisory when deciding whether to proceed with sports activities. While outdoor and indoor sports facilities may remain open, members of public are advised to take necessary precautions to ensure personal safety.
Community Activities
Community activities organised by the People's Association and its grassroots organisations will be guided by the 24-hour PSI forecast issued by NEA and the accompanying health advisory. Air-conditioned rooms in the Residents' Committee Centres, and Community Clubs will be on standby for members of the public who want to seek respite from the haze, should the 24-hour PSI cross into the Very Unhealthy range.
The HTF will continue to monitor the situation closely. HTF agencies will provide further advisories should the haze situation deteriorate.

Issued on behalf of agencies in the Haze Task Force
---
[1] The air quality is considered to be in the Unhealthy range when the 24-hour Pollutant Standards Index is between 101 and 200.