Artificial intelligence for crops, super-charged nutrient absorption, and lab-grown alternative proteins. What do these industry buzzwords mean for Singapore's future of food? And has the current pandemic changed anything?
We speak to three companies making waves in the food innovation ecosystem.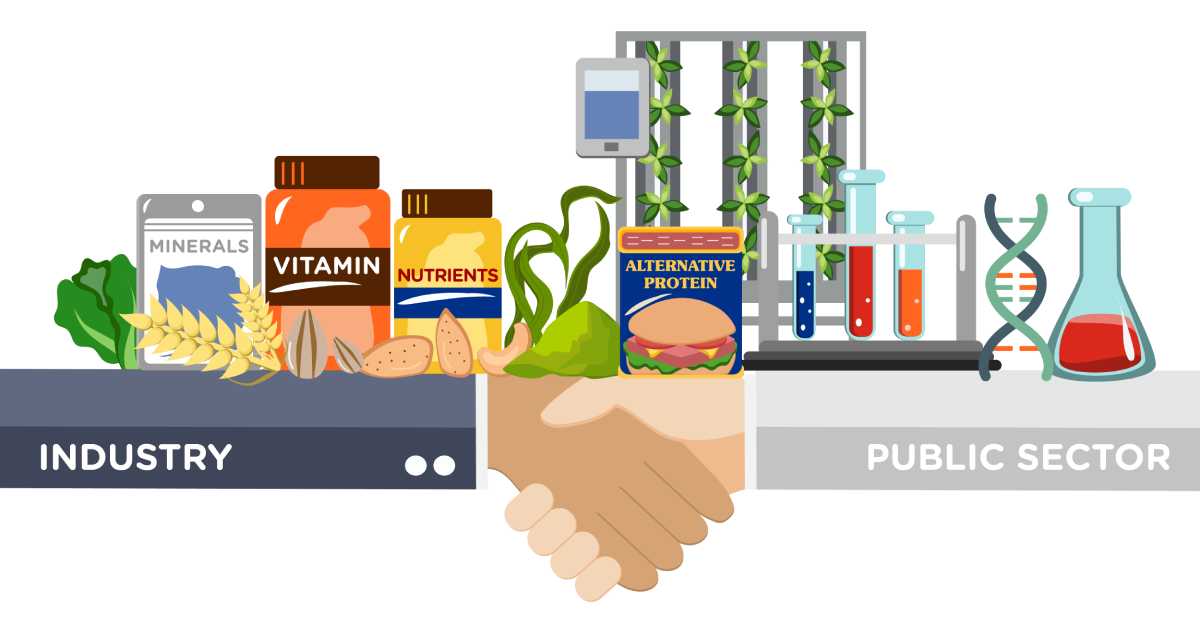 TAPPING ON CROP INTELLIGENCE
Archisen develops and operates systems and solutions to grow local produce in urban cities. By leveraging its expertise in crop management, engineering innovation and IoT technology, Archisen connects multiple urban farms to a centralised intelligence system, to help them stay profitable and optimised. A*STAR provided Archisen with technological expertise that accelerated the start-up's development of their intelligent urban farm management platform, Croptron. Sven Yeo, co-founder of Archisen, explains.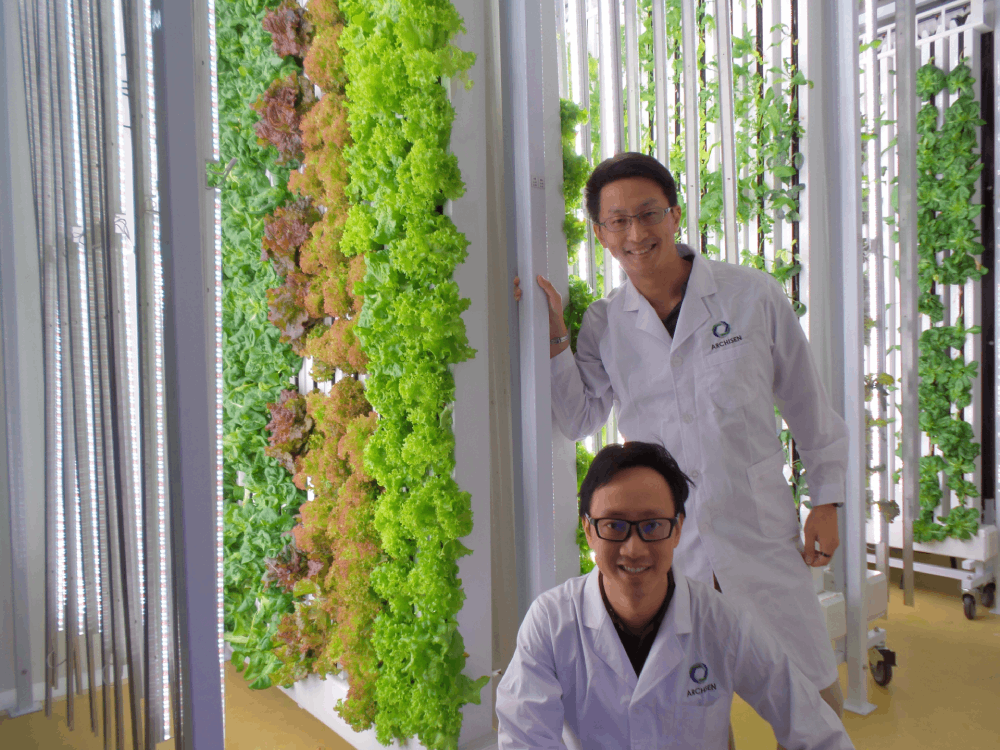 Mr Sven Yeo (above) and Mr Vincent Wei (below), co-founders of Archisen with their vertical farm R&D facility at Commonwealth Capital Building.
WHAT SETS YOUR START-UP APART FROM THE REST IN THE AGRITECH INDUSTRY?
Our proprietary operating system, Croptron, connects each farm to a centralised intelligence system in the cloud. Data from each harvest cycle is aggregated and analysed through a process called "networked farming". This enables each farm to benefit from the data of the entire network and improve after each harvest, collectively and iteratively. Croptron is used by our farm managers to implement crop recipes for production planning, and receive alerts through IoT technology to ensure that the farm is operating at optimum conditions. Overall, with Croptron, we have been able to enhance our farm management through improved planning, irrigation, fertigation, pruning, risks and opportunity management, yield forecasts as well as pest and disease management.
TELL US MORE ABOUT YOUR COLLABORATION WITH A*STAR.
The agency has extensive research capabilities and we wanted to explore how we can work together to leverage its expertise. We worked with the Bioinformatics Institute (BII) on a yield prediction model for lettuce and kale to help prevent crop wastage, which we implemented in Croptron. We were able to reduce operational costs and increase profitability.

WHAT ARE ACHIEVEMENTS ARE YOU PROUDEST OF?
We are currently operating one of our client's 7,000 sq ft farm which is able to produce up to 100 tonnes of vegetables per annum, and there are several other projects in the works. We are excited to contribute to Singapore's food security and resilience, in line with our national goal of '30 by 30′. Today, we provide quality products to leading retailers in Singapore through our flagship brand, Just Produce.
HOW DO YOU SEE THE GLOBAL FOOD INDUSTRY CHANGING?
We feel that the agriculture and food production landscape will be transformed, with new challenges and opportunities arising from unforeseen events like COVID-19 disrupting the global supply chain. In highly urbanised cities like Singapore where most of the city's food supply is imported, we foresee increased investments in alternative farming techniques and underutilised spaces such as rooftops and industrial spaces. As the pressure on the food supply chain increases, pockets of highly productive urban farms would emerge in non-traditional spaces to serve their local communities with high quality and affordable farm produce.
---
MAKING VEGAN "MEAT" A REALITY
Local start-up Sophie's Bionutrients is developing a new sustainable alternative protein out of microalgae, which can be turned into a plant-based protein to be incorporated into consumers' everyday diet. The start-up's proprietary strain of microalgae can grow in a fermentation tank, feed on just food waste (such as okara, or spent grains), and be harvested in less than three days. It also contains high levels of protein (about 60 per cent) and quality essential amino acids, exceeding World Health Organisation requirements for protein products. To boot, there are no fertilisers, herbicides, antibiotics, or even growth hormones used in the entire microalgae production process.
Eugene Wang, Co-founder of Sophie's Bionutrients, sheds light on this revolutionary alternative protein.
WHAT IS THE ULTIMATE GOAL OF YOUR COMPANY?
Develop a set of technologies that will enable human beings to use all kinds of microorganisms to make food and nutrients. We think this is not only a more efficient way to grow food than conventional agriculture and animal farming, but also the best way for the world to be ready for a 10 billion population and even future migration to Mars.
TELL US MORE ABOUT YOUR COLLABORATION WITH A*STAR.
We started working together with A*STAR back in 2018. The agency has a lot of talent in biotech which helped shorten our technology development processes tremendously. We are leveraging the Biotransformation Innovation Platform team's know-how in fermentation, as well as bioprocess engineering and design, to develop a robust production process. A pilot run of 250 litres of microalgae will be fermented in tanks. Once successful, the volume will be progressively increased to 60 tonnes. Many of the scientists at A*STAR also provided us with useful insights which gave us more ideas for our businesses. One example is flavour development. A*STAR's current research on flavour molecules gave me the idea to come up with our own "Protein for Flavour" project. We will be using different compositions of proteins (different peptides or different amino acid combinations) to create different flavours using our technologies to process microalgae.

WHAT ARE SOME OF THE COMPANY'S MILESTONES, SO FAR?
The processes of strain selection, nutrient extraction and technologies for growing the microalgae are all unique to our company. We are currently filing and developing several IPs. With our technologies, we won the grand prize of The SLINGSHOT 2017 awarded by Startup SG and the grand prize of The Liveability Challenge 2019 awarded by Temasek Foundation.
HOW DO YOU SEE THE GLOBAL FOOD INDUSTRY CHANGING?
The food industry will be focused on three things: sustainability, security, and supply chain. As we can see ever more clearly during this ongoing COVID-19 pandemic, these are the critical issues facing the global food industry now. We are currently developing technologies to address this exact set of problems. I predict that we will see a lot of revolutionary new ideas in food tech being successfully commercialised in the next five to 10 years.
---
CLOSING NUTRIENT GAPS FOR HEALTHIER DIETS
Eatobe is a Singapore food biotechnology start-up which aims to address nutrient deficiencies in the population. It does this through a two-pronged approach: produce functional vitamins, minerals and proteins from microorganisms and plant ingredients, and increase the bioavailability of nutrients in food so that they are more readily and easily absorbed by the body.
Eatobe's proprietary and patent pending pre-treatment process breaks down anti-nutrient components (such as phytic and oxalic acid) found in raw foods including grains, seeds, nuts, and leafy vegetables, so that nutrients such as proteins and iron can be better absorbed by the human body. For example, Eatobe has managed to increase the bioavailability of iron in wheat bran by 1.5 times that of regular raw wheat bran.
Patrina Phua, the founder of Eatobe, elaborates on the enterprise's unique proposition for the food industry.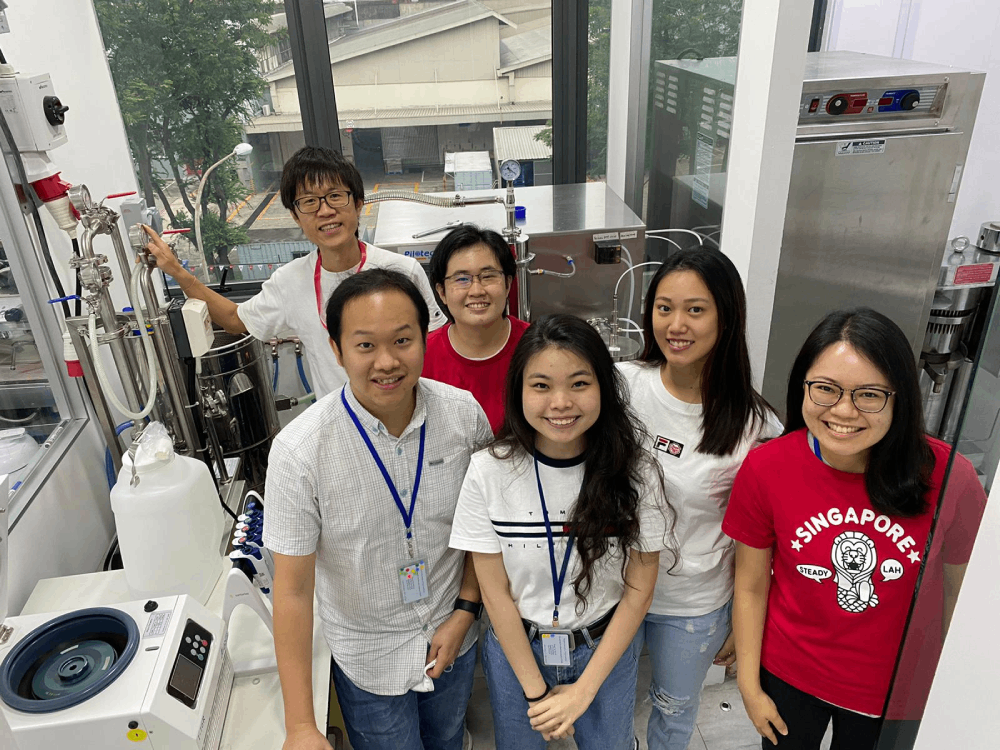 The Eatobe R&D and Foods team in their pilot processing and test kitchen space. (Patrina is on the extreme right)
WHAT IS YOUR ULTIMATE GOAL FOR EATOBE?
Our core mission is to address the gaps of nutrient deficiencies by maximising nutrient absorption from all whole foods to overcome limitations and deficiencies of poor absorption.
DESCRIBE THE UNIQUE TECHNOLOGY THAT YOUR COMPANY IS TAPPING ON.
Eatobe's core proprietary technology and knowledge is our pre-treatment processes. This pre-treatment technology can be applied across different ingredients to increase the release and extractability of these nutrients which in turn, would increase yield as well as nutrient bioavailability. This approach not only allows for the maximum utilisation of resources but also enables the reduction of costs due to the higher yield obtained.

TELL US ABOUT YOUR COLLABORATION WITH A*STAR.
Eatobe's official collaboration with A*Star SIFBI (Biotransformation Group) kick-started in April 2018. We reached out to the Biotransformation Innovation Platform at A*STAR, and found that the scientists there were also keen on addressing the issue of nutrient deficiencies and bioavailability through open collaboration. This partnership has allowed Eatobe to quickly test the feasibility of different research theories, explore a whole range of analytical assays, access a variety of equipment in the labs, as well as discuss unresolved research gaps with fellow scientists.
WHAT ARE SOME OF THE COMPANY'S KEY MILESTONES, THUS FAR?
We have extended the application of the pre-treatment technology from nutrient bioavailability to protein extraction, and are currently exploring the generation of functional proteins, concentrates and isolates. This is an exciting field as chemical and synthetic emulsifiers, gelling and foaming agents could potentially be substituted and replaced by these clean proteins in consumer products in the future. The industry would also benefit from protein alternatives that are lower in cost, with a neutral taste and odour as well as a more complete amino acid profile.
HOW DO YOU SEE THE GLOBAL FOOD INDUSTRY CHANGING?
We think that the global food industry will gravitate towards more natural and clean alternatives to meet consumers' demand. The food industry will need to deliver on the balance between cost, actual derived nutrition and the ease or convenience of consumption. Protein alternatives will definitely grow in prominence with the increasing demand for more affordable plant-based ingredients, improved protein quality and digestibility.