Code Red: Earth is getting warmer.
According to the latest Intergovernmental Panel on Climate Change (IPCC) Report, limiting global warming to 1.5 degrees Celsius is unachievable.
That is, unless there are immediate, rapid, and large-scale reductions in carbon dioxide emissions.
Can we be the generation that ends global warming?
The Time to Act is Now
The evidence is clear: climate change is already negatively impacting every region on Earth.
The same IPCC report states that for every 1.5 degrees Celsius of global warming, there will be increasing heat waves, longer warm seasons, and shorter cold seasons.
These changes affect both ecosystems and the people that rely on them — and are irreversible over hundreds to thousands of years. A report authored by Temasek in collaboration with the World Economic Forum and AlphaBeta found that Asia Pacific stands to lose over 60 per cent of its GDP, equivalent to US$19 trillion, from biodiversity and nature loss.
Luckily, doing well and doing good are not mutually exclusive.
Investments can and should catalyse positive social and environmental impact alongside financial returns in the long run. Purposeful capital can accelerate the pace of innovation in sustainable technology and solutions, propelling us towards a net zero world.
Investing in Climate-aligned Opportunities
Partnering with like-minded organisations to invest in climate-aligned opportunities is one such use case of catalytic capital.
Earlier this year, Temasek and BlackRock launched Decarbonization Partners, an investment fund worth US$600 million, aimed at supporting next-gen solutions that will accelerate a net zero economy by 2050 such as emerging fuel sources, grid solutions, battery storage, electric and autonomous vehicle technologies.
These transformational innovations will help make the global net zero ambition a reality.
The fund will also raise third-party capital from like-minded investors, bolstering long-term collective climate change efforts and creating sustainable value.
Enabling Carbon Negative Solutions
More and more companies are seeking to reduce their own greenhouse gas emissions as an answer to the climate crisis.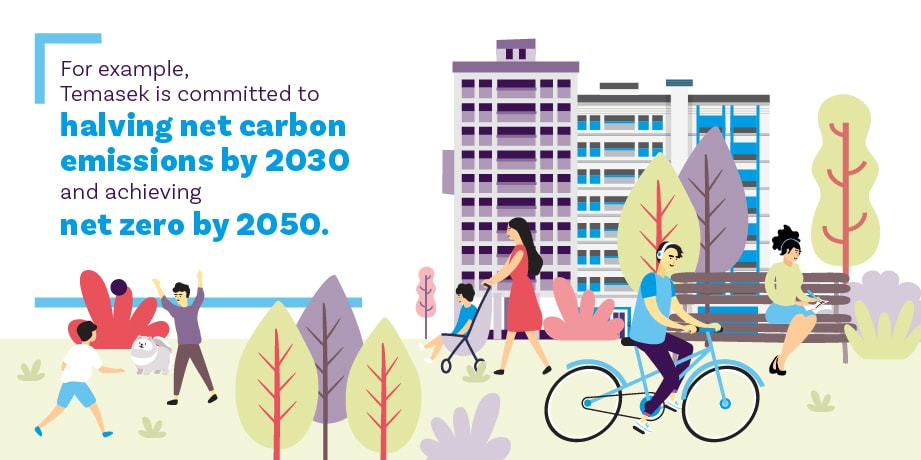 Yet many businesses find it tough to fully eliminate their emissions, especially for traditionally carbon-intensive organisations that aim to achieve net zero. For these companies, carbon credits can help offset emissions while they begin their transition into a more carbon-neutral model.
Joining forces to take climate action, Temasek, DBS, SGX and Standard Chartered established Climate Impact X, a global exchange and marketplace for high-quality carbon credits. Voluntary marketplaces such as Climate Impact X can help incentivise decarbonisation across heavy emitting sectors in the absence of compliance schemes or carbon taxes, expediting the transition to a low-carbon economy.
Being environmentally responsible can also be financially rewarding.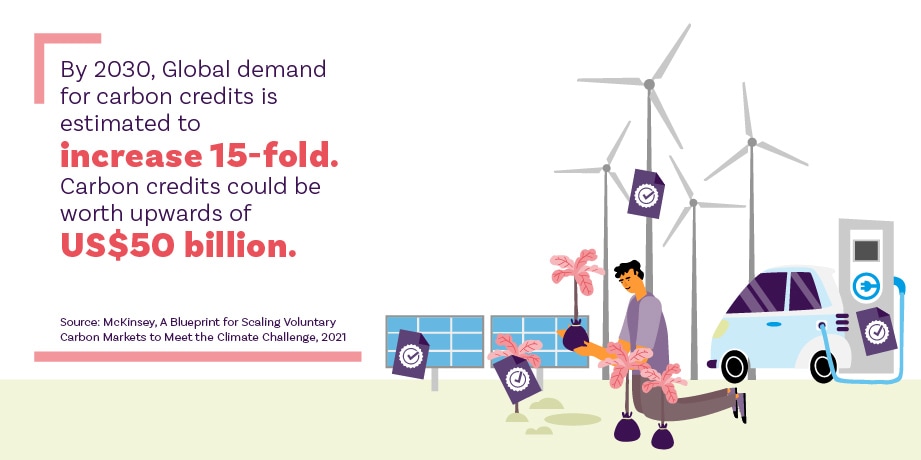 Encouraging Decarbonisation Efforts
Besides investing in innovative decarbonisation solutions and establishing carbon markets, conservation and restoration of existing carbon sinks are also pivotal in the fight against climate change.
To this end, Temasek and Mandai Park Holdings established Mandai Nature, a non-profit organisation dedicated to driving efforts for natural climate solutions (NCS). Part of its mission is to protect threatened species, such as the Sunda pangolin and Raffles' banded langur, from extinction by addressing issues of wildlife trade and habitat loss. The organisation will also focus on protecting and restoring tropical forests, mangroves, and peatlands in Singapore and across Asia.
Conserving Southeast Asia's ecosystems is invaluable as it is a critical source of NCS. A report jointly produced by Temasek, Bain & Company and Microsoft found that the region is home to 25 per cent of the world's investible forest carbon stock, 4.8 gigatons of blue carbon, and 97 per cent of tropical peatland carbon sinks — the highest globally.
For efforts to truly bear fruit, the public and private sectors must collaborate closely and in tandem to catalyse net zero efforts. This includes accelerating, developing, and investing in innovative solutions and initiatives.
Ecosperity, an advocacy platform established by Temasek, brings together business leaders, policymakers, and academia to share their views, ideas, and best practices on sustainable development, as well as to drive the creation of more innovative solutions to tackle global emergencies such as climate change.
This year, speakers such as Dr Jane Goodall DBE, Founder of the Jane Goodall Institute, and Bill Gates, Co-chair of the Bill & Melinda Gates Foundation, discussed their views on topics ranging from the role of nature in sustainable development to ways of reducing the green premium to combat climate change. Speaking at the start of the conference, Lim Boon Heng, Chairman of Temasek, emphasised the key messages of inclusive growth and the urgency for collective climate action.
"Climate is the most critical element of our shared, collective future," he said. "We must accelerate the pace of bold, proactive actions to make the global net zero ambition a reality."
Remember: the climate emergency is not just a cost, it's also an opportunity for doing good and doing well.