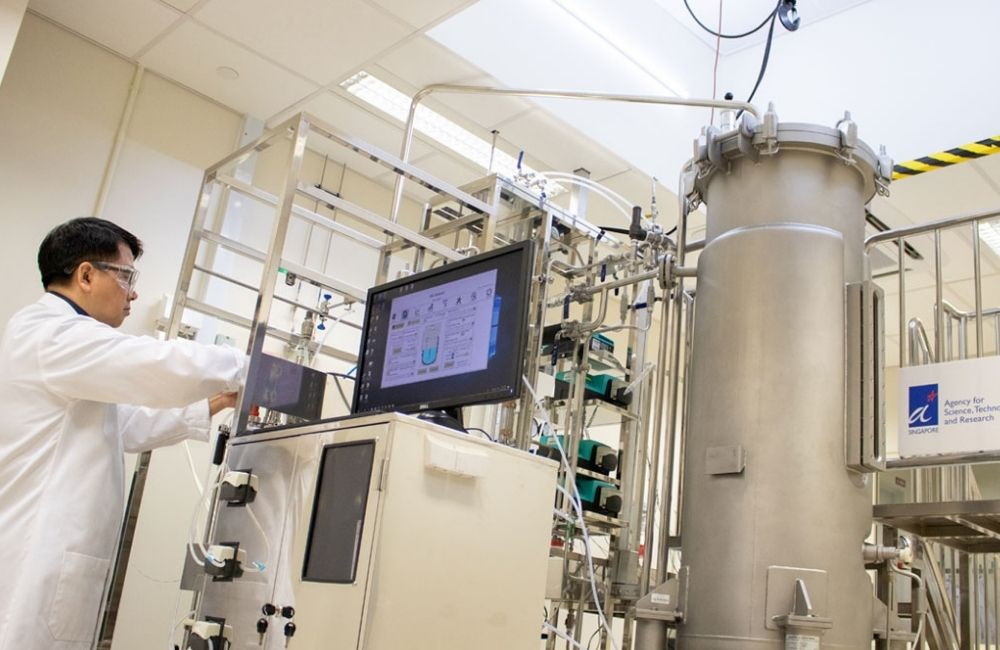 The future for biomanufacturing is undoubtedly bright with the growing demand for medicines, therapies and alternative proteins. Modern medical science enables us to achieve new breakthroughs: from the way we treat a variety of diseases, to innovations in the food tech space that promise to serve up radical change to how food is made.
However, while demand may be growing, there are market pressures to produce these drugs, therapeutics and food in a shorter timeframe without compromising product quality and safety. In biopharmaceuticals, the development of new cures and medicine is often highly inefficient and costly, and there could also be a high failure rate. An increasingly complex business and regulatory landscape creates more challenges. This means that fresh approaches are needed for organisations to remain competitive.
THE INDUSTRY 4.0 ADVANTAGE
Paradoxically, it is the inorganic that will give biomanufacturing a boost.
Biomanufacturing 4.0 is expected to replace traditional biomanufacturing production models with a new approach derived from Industry 4.0. This involves integrating the physical and digital in biomanufacturing, where all the systems and equipment in the biomanufacturing process are connected digitally, and technologies such as artificial intelligence (AI) or machine learning help to improve the critical process parameter during biomanufacturing.
"Essentially, Biomanufacturing 4.0 requires a shift from working with a black box model and tightly constrained parameters, to a more knowledge-driven approach.," said Dr Andre Choo, Deputy Executive Director at the Bioprocessing Technology Institute (BTI), A*STAR.
He explained that the ultimate goal is to deliver high quality products consistently, expeditiously, and at a better price point.
DIGITAL TWINS AS PREDICTIVE TOOL
Creating a "digital twin" will enable manufacturers to have more efficient operations, providing critical process-related data and help make better-informed decisions.
How does a digital twin work? This involves creating a computer model – a virtual copy – of a complex manufacturing environment. Equipped with real-time sensor and physical modeling, the machines send data into the digital twin, which monitors the manufacturing process, optimises processes, and alerts operators before process deviation occurs. This helps to improve processes, reduce down time, and increase productivity.
For example, Chinese hamster ovary (CHO) cells are often used to produce biotherapeutics, such as recombinant proteins and monoclonal antibodies. In collaboration with a team from the School of Chemical Engineering at Sungkyunkwan University, scientists from BTI created a digital twin of the CHO cells. Through the digital twin, the research team simulated multiple conditions using the predictive model, and narrowed down the scope of 'wet lab' experiments significantly. This has saved time, money, and labour in the optimisation process.
BIG DATA AS AN ENABLER
What biomanufacturing 4.0 needs is quality data – something that the biomanufacturing sector has plenty of. Biopharmaceutical processes can generate hundreds of millions of data points, and the volume and complexity of biomanufacturing data is also expected to grow exponentially in the coming years. For a manufacturer, the ability to analyse and compare this big data can unearth patterns that can provide valuable insights to identify existing trends and even predict future trends. The use of advanced big data analytics, machine learning and artificial intelligence can have a big impact in biomanufacturing 4.0.
In-line monitoring/real time release (ILM/RTR) has been identified as an area in biomanufacturing where AI will have a major impact. ILM/RTR is the process where biomanufacturers evaluate and ensure that quality of the final product meets quality control standards, on the production line, in real time.
Currently, most quality assessments occur off-line and require a longer analysis time. In addition to the need for novel bioanalytical tools and technologies to facilitate on-line quality attribute monitoring, AI will be leveraged upon to analyse and interpret the data obtained from these online solutions. This combined approach will enable manufacturers to conduct accurate quality assessment in real time, and still maintain the safety profiles of the biologic or manufactured product. Manufacturers will thus be able to meet the business drivers of speed, cost, consistent product quality, and achieve faster time to market.
BIOMANUFACTURING 4.0 POISED FOR GROWTH
Biomanufacturing 4.0 is one of the most exciting developments in biomanufacturing today.
"We can use Industry 4.0 technologies to design a more adaptable and agile bioprocess," said Dr Andre Choo.
BIOMANUFACTURING 4.0 IN ACTION
---
Amgen:
The optimal and real-time use of big data proved highly successful for biotechnology company Amgen.
Amgen manufacturing plant in Singapore implemented a structured data integration and analytics platform, combined with predictive modelling and visualisation, to enable centralised process monitoring across its entire manufacturing network. With this in place, the company is now able to predict overall performance, quality, and the likelihood of successfully manufacturing additional batches without extending production schedules.
As a result, Amgen has experienced productivity improvements, with reduced manpower requirements for process monitoring by 67 per cent. It has also nearly halved the volume of process monitoring documentation, saving 1,200 man-hours.
Avant Meat:
For foodtech firm Avant Meat, it is turning to Biomanufacturing 4.0 to scale up its production effectively and efficiently through setting up a joint facility with BTI. Avant Meat taps on A*STAR's expertise in bioprocess research and development, such as animal cell bioprocessing and multi-omics analytical sciences and technologies. Avant aims to quicken the delivery of fish fillets and even fish maw to dinner tables, by accelerating the optimisation of the cell cultivation process for meat production, and scaling up the production of food-grade cultivated fish.