The Singapore 100 Women in Tech (SG100WIT) 2021 list celebrates women who have made significant contributions to tech in Singapore.
Join us to congratulate the six women from A*STAR who have made it to the SG100WIT list during this Year of Celebrating SG Women. Hear their stories and uncover how they have made a difference in tech, inspiring more girls and women to join tech or develop their careers in tech.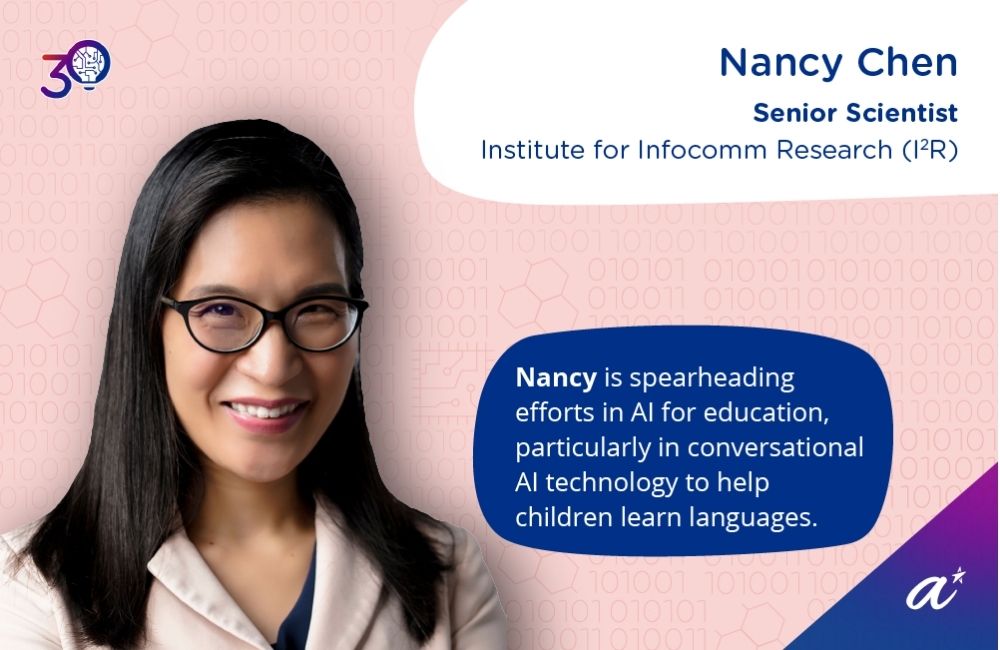 NANCY CHEN
Group Leader, Senior Scientist and Principal Investigator
Institute for Infocomm Research, A*STAR
Nancy is spearheading efforts in AI for education. In particular, she develops conversational AI technology to help children learn languages. Her team has developed proprietary Malay and Tamil speech evaluation systems which have been deployed through the Interactive Portal for Mother Tongue Languages (iMTL Portal) by the Ministry of Education in Singapore. This line of work is being extended to other languages such as English and Mandarin. These efforts fuel the development of A*Wiz, a multilingual speech technology platform that uses AI to help children learn how to read aloud. She believes AI is a powerful tool that can make teaching and learning more efficient, accessible, and prevalent.
Her research in speech, language and dialogue processing is also driving potential virtual nurse applications to help patients with chronic diseases in on-going collaborations with SingHealth under the Diabetes Clinic of the Future Programme and the Health Management Unit Heart Failure Telehealth Programme.
Nancy is an active member in professional AI-related societies. She serves on the International Speech Communication Association Board and the IEEE Speech and Language Technical Committee. She is also a senior area editor for IEEE Signal Processing Letters and associate editor for Neurocomputing and IEEE/ACM Transactions on Audio, Speech, and Language Processing.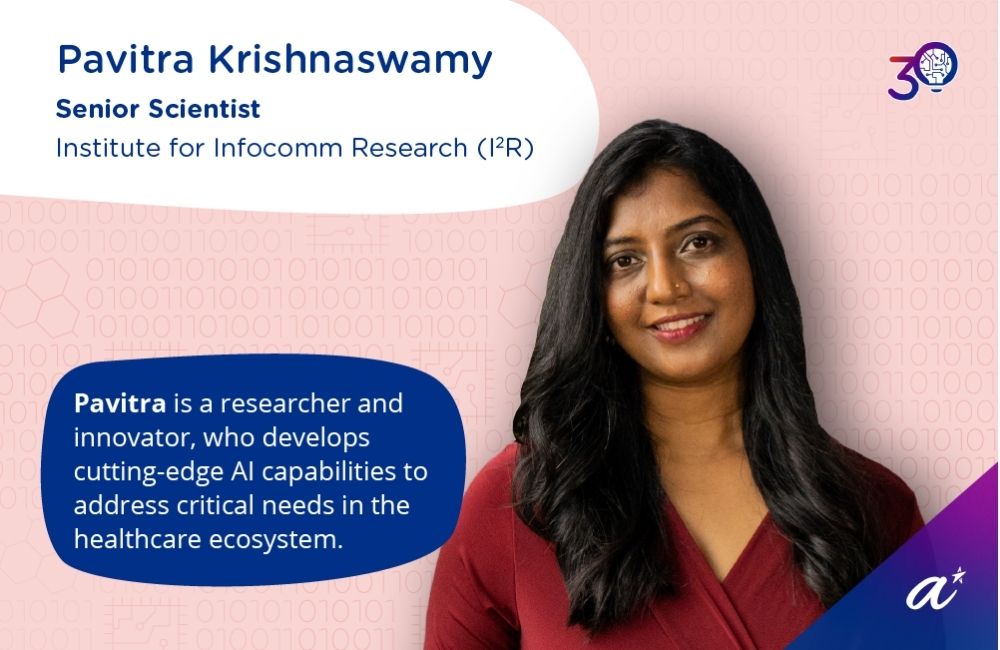 PAVITRA KRISHNASWAMY
Senior Scientist and Group Leader
Institute for Infocomm Research, A*STAR
Pavitra is a researcher and innovator, who develops cutting-edge AI capabilities to address critical needs in the healthcare ecosystem. With her team, she has advanced infrastructure and deep technology to readily leverage real-world patient data for diverse health intelligence applications.
Her team's innovations have contributed new machine learning solutions to enhance decision support and resource-efficiency in clinical imaging, and in cardiovascular and metabolic disease applications. Her work has also demonstrated that health data from home-based monitoring devices can improve cardiovascular disease risk stratification, and enable more timely and targeted interventions. To safely translate these innovations to practice, Pavitra and her team are developing next generation toolsets for AI quality assurance, and working closely with healthcare stakeholders on evaluation studies.
Pavitra's work has led to 30 intellectual property filings, and several publications in top-tier conferences and journals. She is deeply invested in women's education causes, and derives energy from mentoring students and younger professionals in multidisciplinary endeavours.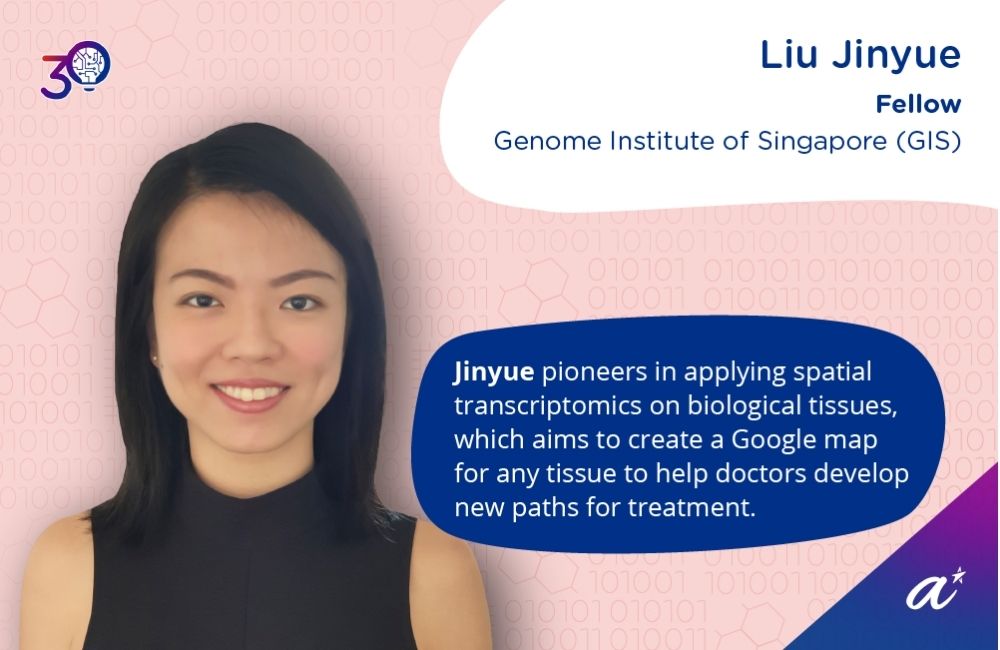 LIU JINYUE
GIS Fellow,
Genome Institute of Singapore, A*STAR
Jinyue is a pioneer in applying spatial transcriptomics on biological tissues. The goal of this technology is to create a Google map for any tissue at high resolution which would help doctors develop new paths for treatment. Spatial transcriptomics is a ground breaking molecular profiling method to allow scientists to measure all the gene activity in a tissue sample and map where the activity is occurring.
The technology is so new that she has to engage instrumentation engineers to build prototype equipment and computational scientists to improve data acquisition and analysis. Thus far, she has completed a proof-of-concept reconstruction of human brain development at high resolution and scale, evidence that imaging-based spatial transcriptomics technology is achievable.
She is excited about a "Google" map she is building of the human brain, collecting and analysing all the interactions of cells in the brain during good health and disease. This map will shed light on the human brain while the instruments and analysis tools developed can transform digital pathology, diagnostics and scientific discovery. She presented her ground breaking work at the international 2021 Advances in Genome Biology and Technology conference, the pre-eminent meeting on genome technologies.
Her vision is to develop new ways to decode mental illness and other mysteries of the human body.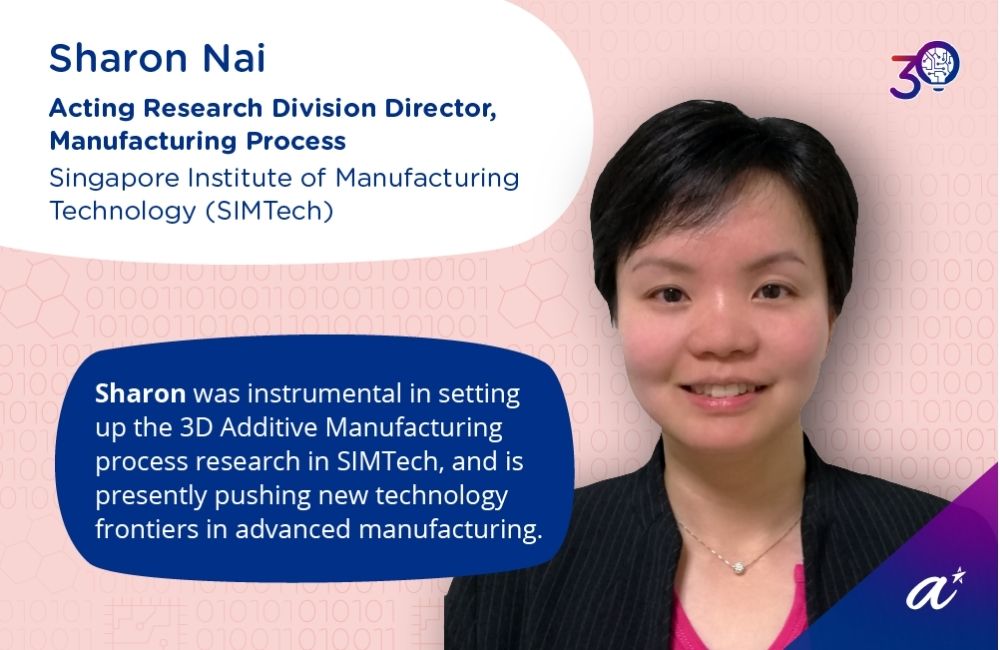 SHARON NAI
Acting Research Division Director, Manufacturing Process
Singapore Institute of Manufacturing Technology, A*STAR
For over a decade, Dr Sharon Nai pursued metallic alloy and composite material development and additive manufacturing process development to realise the printing of complex geometrical metallic parts with superior mechanical properties and lightweight features, something that is challenging to achieve by conventional manufacturing methods.
She was instrumental in setting up the 3D Additive Manufacturing (AM) process research in SIMTech. She provides research leadership and plan for high impact research outcomes through active technology foresight and networking with different stakeholders. The work nature saw her tackling people-centric challenges such as managing expectations of stakeholders and synergistically achieving impactful outcomes. Her calm demeanour in seeking alignment by understanding and actively listening to the different parties and addressing their concerns to reach a common goal won her many respects from her peers.
Under her management, her team has made significant progress in establishing an integrated end-to-end 3D additive manufacturing solution for metal, ceramic and polymer components, covering design powder synthesis, AM processing and post-process finishing.
She provided the impetus for her team, inspiring them to deploy 3D Additive manufacturing in the precision engineering, aerospace, semiconductor and medtech sectors. Sharon's relentless effort in industrialising 3D AM technologies has attracted major manufacturing companies to establish industry joint research labs with SIMTech.
She is presently charting new research direction for the Manufacturing Process Division, that is supported by over 100 researchers. Her team is pushing new technology frontiers in (i) metamorphic 4D advancing manufacturing towards smart and sustainable processing, and (ii) hybrid flexible manufacturing for complex lightweight multi-functional components.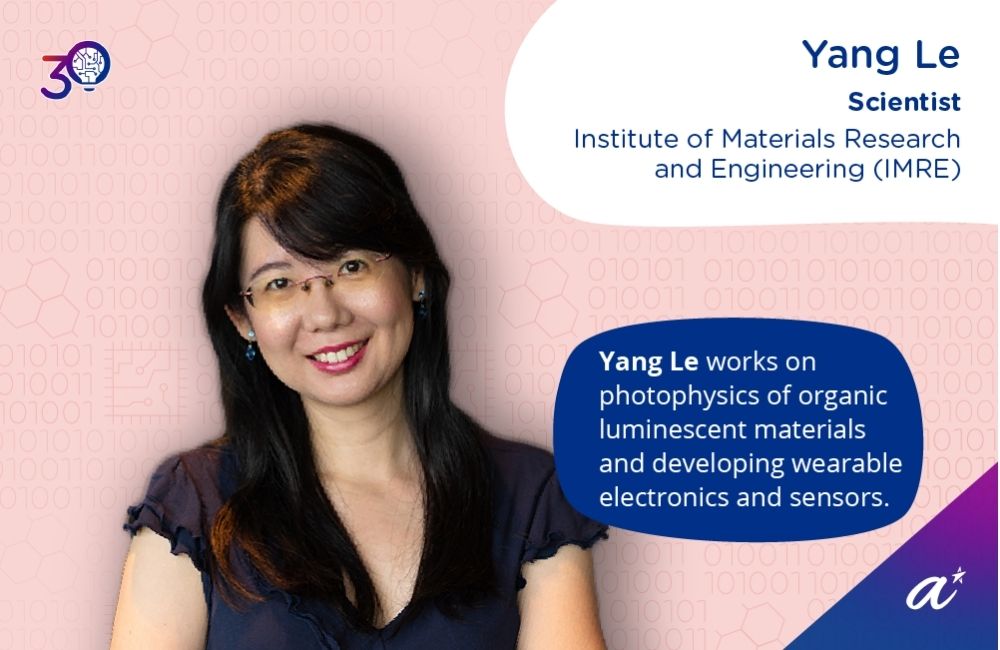 YANG LE
Group Leader
Institute of Materials Research and Engineering, A*STAR
As a relatively young scientist, Yang Le has already several publications in top-tiered international journals and holds several patents in high-performance printable electronics. She is working on the photophysics of organic luminescent materials and developing wearable electronics and sensors.
Leading a team of eight researchers, her PROFESS Group (PRinted Organic Flexible Electronics & SenSors) is studying functional materials properties and device (photo)physics to build flexible and printed devices for various applications in medicine, agriculture and energy industries.
She is excited by the discoveries her work on solar cells, LEDs and sensors are having in different areas. She finds it addictive to observe the performance of these devices for it provides a direct visual feedback to improve her research.
A current project is the building of wearable sensors, targeting non-invasive real-time continuous monitoring of sweat biomarkers. While this medical technology endeavour is new to her, it challenges and invigorates her. The work is meaningful, as it can contribute towards a new era of digital healthcare, cloud-based health data, and wearable personalised trackers.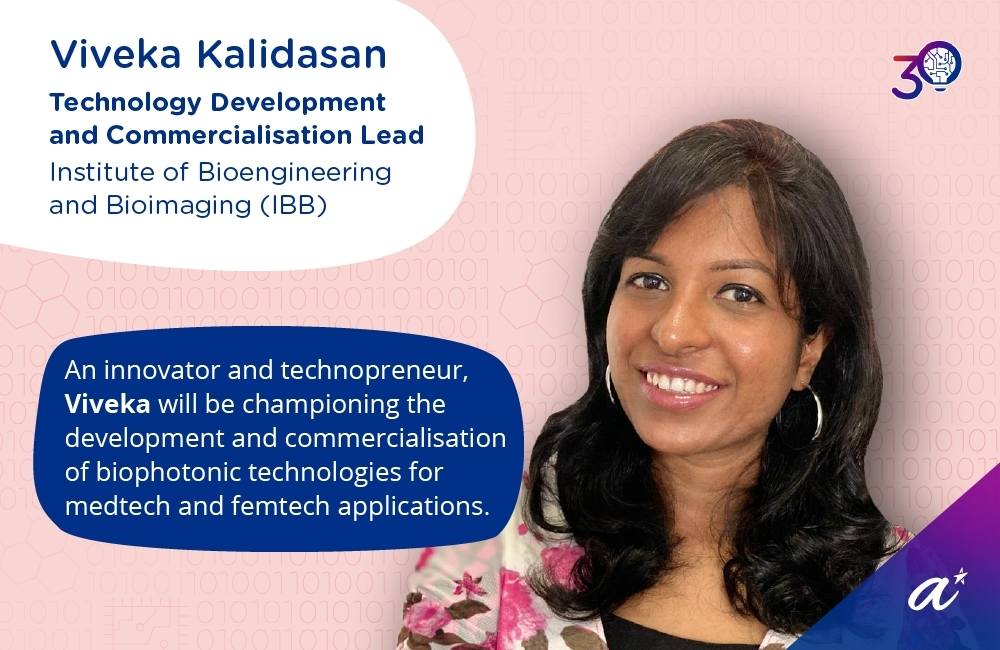 VIVEKA KALIDASAN
Technology Development and Commercialisation Lead
Institute of Bioengineering and Bioimaging, A*STAR
Viveka is an innovator and technopreneur. She is also a mentor to various start-ups, venture creation programmes like UN Women-Entrepreneurship programme, Seedstars, UK based cLAB ventures, IHH Innovation Challenge, Beyond Health Hack, to name a few.
She is embarking on a new role to commercialise technologies from the Translational Biophotonics Lab, A*STAR. She will be championing the development and commercialization of biophotonic technologies for medtech and femtech applications and eventually spinning out one of them as the founder.
During her postdoctoral research at National University of Singapore, she invented and translated WiSe a Wireless Sensing platform technology to monitor post-operative complications in a real-time manner. She has developed a first-of-its-kind, novel class of conductive and WiSe sutures, with medical grade properties. Her research on WiSe is published in the highly prestigious and high impact factor journal, Nature Biomedical Engineering. She spearheaded both the R&D and translation of WiSe technology in APAC and North America, working closes with Key Opinion Leaders, clinicians and other stakeholders
Apart from her innovative ventures, she founded Edify (former Avantgarde-Initiatives/AgI), a one-stop, innovative mentorship platform for all deserving global talents. Edify primarily aims to encourage more girls and women to pursue STEM.