For Chng Tze Chen of Temasek Polytechnic (TP), cars have always been a fascination from a young age, while creating practical solutions to improve current engineering mechanisms interests Peter Chong of Nanyang Technological University (NTU). When the Shell Eco-marathon presented a chance to work on an actual car, they immediately jumped at the opportunity to represent their respective schools.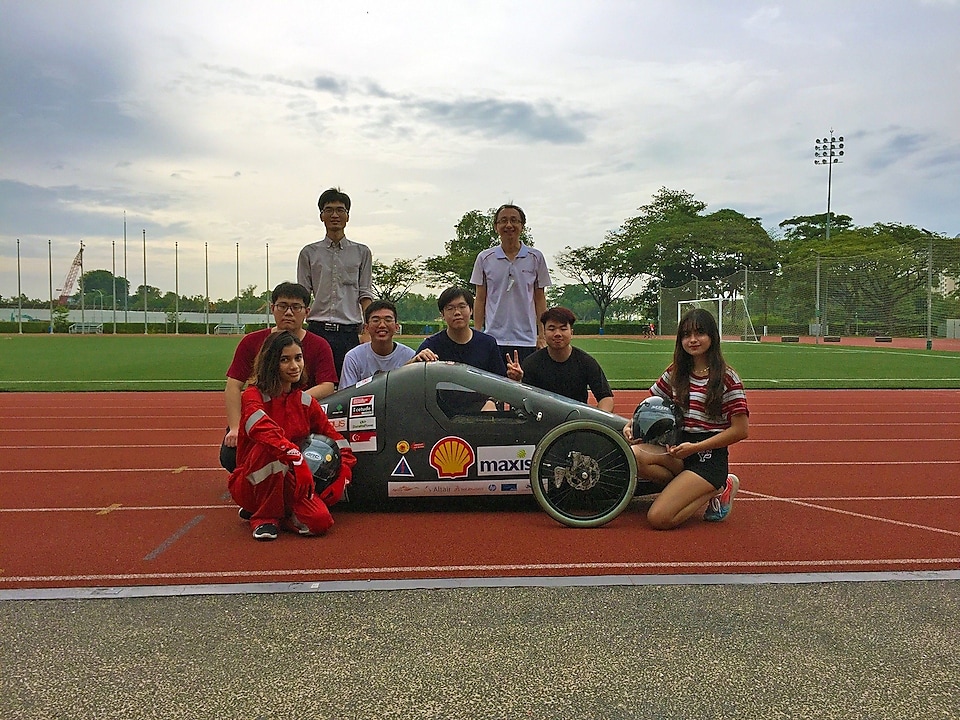 Although much of the world grinded to a halt in early 2020, the spirit of student innovation and team work continued to shine brightly in the TP and NTU teams, eventually leading them to clinch the Technical Innovation Award and Vehicle Design Award (Urban Concept) respectively at this year's Shell Eco-marathon Asia Off-Track Awards.
Shell Eco-marathon is one of the world's leading energy-efficiency competition programmes for science, technology, engineering and maths (STEM) students to design, build and drive ultra-energy-efficient cars. Held virtually for the first time due to the pandemic, the Asian edition of the Off-track Awards continued its tradition of recognising excellence in communications, circular economy, technical innovation, vehicle design and safety.
This year's awards attracted more than 100 entries by 50 teams from 16 countries. The winners were announced in a virtual ceremony live on Shell Eco-marathon's Instagram and Twitter on June 3, 2020. Scuderia Ferrari Formula 1 Driver Charles Leclerc joined the ceremony as a special guest.
For the technical inventiveness of their vehicle design that recycles hydrogen waste to generate energy, TP Eco Flash impressed judges and bested competitors to receive the Technical Innovation Award for the first time.
While such systems exist in the market, hydrogen recycling is not widely adopted as the process consumes a considerable amount of power. Additionally, decompressors needed for such systems are often bulky and therefore not traditionally used in race cars or lightweight vehicles.
TP Eco Flash gave themselves a challenge to address both areas. And the team succeeded, creating an innovation that requires less energy for recycling hydrogen while being compact enough to fit into an eco-car. Its purge-free capability also makes it safer than conventional hydrogen fuel cells.
A highly flammable gas, hydrogen could cause an explosion if accumulated in an enclosed space. To ensure safety, TP Eco Flash incorporated a fail-safe mechanism that would shut down the vehicle if hydrogen built up as a result of not being recycled.
"Taking part in Shell Eco-marathon has been a very fulfilling journey for our team and our advisors, and we are glad that we were able to see our hydrogen-powered vehicle in action before the Circuit Breaker in Singapore happened. Being able to be part of this year's regional competition allowed us to test our ideas and come up with real-world solutions using clean energy. Our ability to effectively integrate knowledge from multiple disciplines – clean energy, electronics and mechatronics – to secure our win is certainly another plus," said Tze Chen, who is the student manager of TP Eco-Flash.
Another category that saw stiff competition was the Vehicle Design Award (Urban Concept). NV11 Nanyang Autonomous Venture from NTU made the strongest impression on panellists with the intricate details, overall packaging, quality interior and good ergonomics of their vehicle.
Inspired by the characteristic fusiform shape of the killer whale, or orca, which contributes to it being one of the fastest-swimming marine mammals, the electric eco-car boasts a streamline, aerodynamic design, which reduces the drag from air moving past.
Modifying a design inherited from the NTU team that participated in Shell Eco-marathon 2019, the team of final-year undergraduates enhanced the steering, drivetrain, electrical and braking systems. The combination of these improvements increased energy efficiency by 30 to 40 per cent, based on lab tests.
"I remember the day when we first took over the car from our seniors and each of us did a test drive to understand the areas for improvement. That experience got us really excited – a feeling that kept us going till the end, even when the COVID-19 pandemic meant that we could no longer compete on-track. Nonetheless, Shell Eco-marathon has provided a wonderful hands-on learning platform that allowed us to develop practical solutions to a present-day issue. We look forward to passing our knowledge on to subsequent NTU teams so that they can surpass and better our design," said Peter Chong, Lead Driver, of NV11 Nanyang Autonomous Venture.
This year also marks the 35th anniversary of Shell Eco-marathon. Over the years, Shell Eco-marathon has seen thousands of high school and university students from across the world build ultra-energy-efficient vehicles, in a variety of designs, using a spectrum of energy types. Every year brings new stories of human endeavour and technical excellence, as teams push the boundaries of what's possible. In these extraordinary times, Shell Eco-marathon continued to find ways to keep the spirit of innovation alive among its student participants.