Amid the economic disruption wrought by the Covid-19 pandemic last year, at least one disruptive force among Singapore's small and medium-sized enterprises (SMEs) was for good. Outsized digitalisation across the board has meant, for many smaller businesses here, three to five years' worth of digital progress in a single year.
The opportunities before these newly digital SMEs, beyond productivity and process improvements, are many: new revenue streams, new customer segments and markets, new sources for supplies and the possibilities opened up by the new currency of digitalisation – data.
Last week, the government announced fresh initiatives specifically to help SMEs deepen their digital capabilities. These seek to build on the progress that firms themselves have made, pivoting towards hybrid online-offline business models and adopting digital ways of conducting business amid a global pandemic.
Indeed, that progress is well illustrated in statistics shared by the Ministry of Communications and Information. A year ago, 1,000 enterprises in Singapore were registered for e-invoicing. Today, over 35,000 enterprises are. And of the more than 63,000 SMEs that have adopted digital solutions with support from the SMEs Go Digital programme, 40,000 signed up in 2020 – twice the number that did over the three preceding years.
And a deepening of digital capabilities is precisely what small businesses that have entered the digital realm need, if they wish to see sustained impact on their bottom-lines. Just as individuals may utilise a mere fraction of what the software they own can do, SMEs could easily adopt digital solutions without becoming meaningful adopters.
As a bank, we have been able to observe the difference that deeper digitalisation makes to a company's performance. As a rough proxy, we consider clients that conduct more than 50 per cent of their banking activities – including collections for their sales and payments for their purchases – digitally, to be "highly digital" SMEs.
Here, it is useful to consider the diverse SME community in two categories, irrespective of size: one, the newly incorporated digital natives and startups, and two, the more mature SMEs founded prior to the advent of today's digital solutions.
Over the last year, even among the "born digital" group of SMEs, there was a marked acceleration in the pace at which they utilised digital tools to manage their operations, sell and connect. And the payoff is clear. Revenue of "highly digital" companies within this first group of young startups outstripped their less digital peers by 2.5 times.
Singapore's fitness service provider, SgFitFam Pte Ltd, for instance, enhanced their digital booking system to reduce reliance on WhatsApp bookings from their private and corporate clients and introduced a digital HR solution to speed up monthly payroll preparation last year. SgFitFam estimates that this led to a 20 percent jump in its revenue.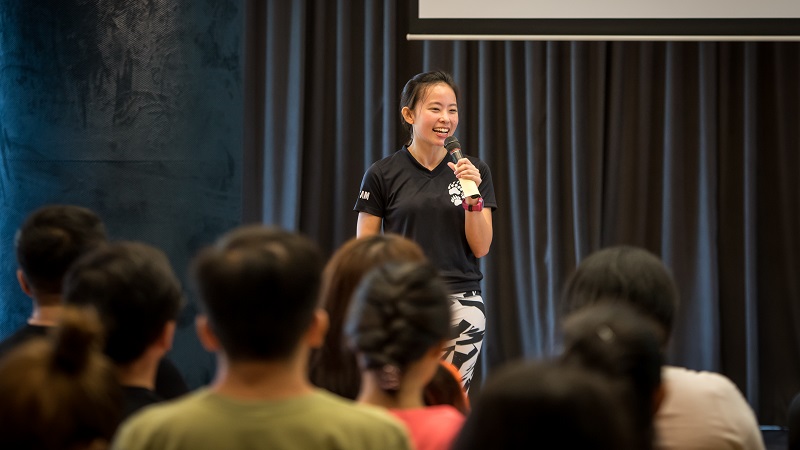 Gina Chan, the founder of SgFitFam.
The performance gap that deep digitalisation produces was even more stark among the more mature SMEs. The "highly digital" ones of this group of established firms would have had to take a conscious first step into digitalisation, transforming their existing business practices and processes, and then gone further to master and wield digital tools across their operations, and they now perform four times better in sales  than their less digitalised peers.
Being digital in and of itself – merely the adoption of technologies and solutions – is insufficient. Digitally transforming a business for sustained growth has much to do with how adept a small enterprise can be when it comes to handling the new currency of digitalisation – data.
Take a small food and beverage operator. Prior to adopting digital solutions, the data available to a dining outlet's owner typically comprises of footfall by time of day and loops of receipts that show the breakdown between cash and credit card payments.
Once he decides to get on a reservations platform, this boss suddenly has at his disposal heaps of information on customers arriving via that platform: their demographics, who the loyal ones with repeat bookings are, how they respond to offers, and the levels at which they spend. Get on a delivery platform – which countless SMEs did during the circuit breaker period last year – and yet more data is churned out: the average ticket size of orders, which customers respond to sets or offers, the locations orders are being delivered to, and more.
No matter the sector, digitalisation gives rise to data. Browzwear, which provides 3D fashion design software to fashion houses, is able to analyze mass amounts of data to understand which functions customers value the most, and from there, innovate to further develop these functions.
Choose to digitalise with partners, financial institutions like ours, for instance, and still more data can be made available to the SME. Offering digital solutions for payments, collections, merchant services and trade to customers allows a firm access to broad insights into customer demographics from the bank, and even more critically, a sense of how it benchmarks against its peers.
Data enables a company to make business decisions with more precision and immediacy. Digital ways of conducting business generate real-time data that provide insights ranging from customer segments and experience to drivers of cost down their supply chain. E-commerce allows SMEs to transcend Singapore's borders and discover new customers, even ones in far-flung markets.
Recently announced government initiatives such as the Chief Technology Officer-as-a-Service scheme, the Digital Leaders Programme and the Better Data Driven Business programme seem to focus precisely on lifting SMEs beyond the productivity and process gains of going digital, in pursuit of deep digital transformation.
As Singapore seeks to emerge stronger from the global pandemic, Budget 2021 has certainly shifted from last year's focus on preserving and protecting businesses and jobs, back to the multi-year effort to transform the economy, industry by industry.
Small businesses are key to this effort, and digital transformation is key to their journey. One estimate, based on a survey conducted by the International Data Corporation, is that SMEs' revenue and productivity gains from digital transformation could add as much as US$24 billion to Singapore's gross domestic product by 2024.
Collectively, SMEs have made huge digital strides forward in 2020. Now, past that first step of getting on board the digital bandwagon, it is up to the individual small business owner, the one who is curious and hungry to succeed, to harness the power of digitalisation – data – and turn it into dynamic knowledge that will lift his business' growth trajectory.
Written by Linus Goh, Head of Global Commercial Banking, OCBC Bank