DBS announced it is scaling up the transformation of its branches across Singapore as customers seek quicker, socially-distanced, and more personalised branch banking services, and shift their banking to digital platforms amid Covid-19.
In response to these shifts, the bank will boost self-service options, while still providing face-to-face assistance. This means that customers can more widely perform complex transactions such as replacing their ATM or debit cards outside traditional banking hours. To cater to the growing interest in financial planning and personal investment options, DBS will also enhance personalised financial planning advisory at the branches.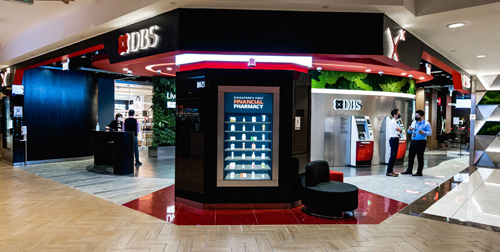 The transformation began with the DBS Takashimaya branch, which opened last month, and will continue to be rolled out across at least one-third of the bank's branch network over the next 12 to 18 months.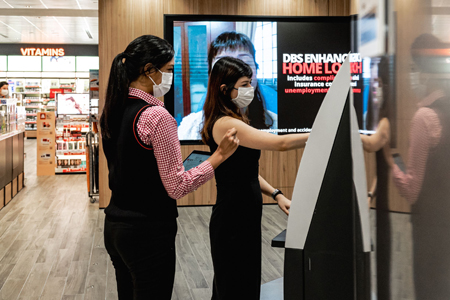 Shee Tse Koon, DBS Singapore Country Head, said, "Six years after we launched our digitalisation strategy, we're seeing an unprecedented boom in digital banking adoption with customers shifting en masse to digital platforms amid Covid-19. The pandemic has irrevocably changed the way most of us bank and has undeniably been a catalyst for us to transform further in order to cater to these rapidly shifting needs. Our aim is to provide banking solutions that ensure customers' lives and their access to both digital and physical banking services remain undisrupted. Our new branches will therefore complement our digital banking services to provide what we call a 'phygital' banking experience that retains our 'human touch' in the form of face-to-face assistance and consultations."
Changing consumer banking preferences
Today, over 95% of regular DBS banking transactions (e.g. fund transfers, remittances, bill payments) are now done digitally via the DBS digibank mobile app or digibank online. Compared to 2019, the bank has also seen twice as many new monthly active users on its digibank[1]services and double the number of outgoing PayNow transactions.
Self-service options also remain popular. Customers today perform four in five of the most popular over-the-counter transactions online or at self-service machines. With more people preferring to fulfil their banking needs online and at DBS self-service options, fewer of them are going to bank branches. Since Covid-19, monthly average visits per branch have declined by 15%[2], compared to previously. Customers have also been transacting less post-Circuit Breaker, with monthly average over-the-counter cash deposits/withdrawals per branch having dropped by 22%[3].
Future-resilient banking in the new normal
Even as the pandemic subsides in Singapore, personal health and safety continue to be a priority. The bank's new branches will be designed to maximise safe distancing and have safety features installed to protect customers and staff.
The new branches will give customers access to branch services beyond traditional banking hours, and round-the-clock where possible. DBS is rolling out more self-service banking machines, such as Video Teller Machines (VTMs) or Branch Teller Machines (BTMs), enabling customers to complete more complex transactions safely and securely. These transactions, previously only available over-the-counter, include replacing ATM/debit cards, depositing daily business earnings in coins and dollar notes[4], and instantly updating account balances. Digital ambassadors will be on-site, ready to guide customers who need help with the self-service machines.Watch a DBS digital ambassador share her experience in assisting customers in the bank by clicking here.
The new branches will also feature more wealth planning managers able to provide personal financial planning consultations to help customers achieve financial wellness. In some branches, there will even be interactive tools that customers can engage with, and to start thinking about their financial planning needs.
Inclusive banking for all
DBS remains committed to supporting and serving those who are less digitally-savvy, including the elderly. The bank has been working with IMDA since 2014 to reach out to seniors who are unfamiliar with digital tools. Through digital workshops and literacy programmes, DBS has reached out to 300,000 seniors, most of whom are now banking with POSB/DBS. These workshops go beyond teaching the basics of digital banking and include education to increase scam awareness, such as the potential risks and threats that might arise from scammers.
The bank's relentless work to drive digital literacy and digibank usage among those who are less digitally-savvy has seen steady progress over the years. In Q1 this year, retirees in Singapore performed three times more DBS digital banking transactions compared to the same period in 2019.
Shee said the bank is committed to continuing its public outreach programmes and exploring new ways to ensure that banking remains inclusive, and accessible to all customers.
"While many people are benefitting from the ease and convenience of digital banking, we are also cognisant that the less digitally-savvy, including some seniors, have yet to make the digital leap. As the bank that serves most of Singapore, it is our responsibility to ensure that everyone has easy access to banking," he said.
---
[1]Sep vs Jan 2020, compared to Sep vs Jan 2019
[2]Sep 2019 to Mar 2020 (excl. Nov and Jan) vs Jun to Oct 2020
[3]Sep 2019 to Mar 2020 (excl. Nov and Jan) vs Jun to Oct 2020
[4]Coin deposits via BTMs to be available in the near future
About DBS
DBS is a leading financial services group in Asia with a presence in 18 markets. Headquartered and listed in Singapore, DBS is in the three key Asian axes of growth: Greater China, Southeast Asia and South Asia. The bank's "AA-" and "Aa1" credit ratings are among the highest in the world.
Recognised for its global leadership, DBS has been named "World's Best Bank" by Euromoney, "Global Bank of the Year" by The Banker and "Best Bank in the World" by Global Finance. The bank is at the forefront of leveraging digital technology to shape the future of banking, having been named "World's Best Digital Bank" by Euromoney. In addition, DBS has been accorded the "Safest Bank in Asia" award by Global Finance for 12 consecutive years from 2009 to 2020.
DBS provides a full range of services in consumer, SME and corporate banking. As a bank born and bred in Asia, DBS understands the intricacies of doing business in the region's most dynamic markets. DBS is committed to building lasting relationships with customers, and positively impacting communities through supporting social enterprises, as it banks the Asian way. It has also established a SGD 50 million foundation to strengthen its corporate social responsibility efforts in Singapore and across Asia.
With its extensive network of operations in Asia and emphasis on engaging and empowering its staff, DBS presents exciting career opportunities. The bank acknowledges the passion, commitment and can-do spirit in all of our 29,000 staff, representing over 40 nationalities. For more information, please visit www.dbs.com.