Since 4 July 2020, OCBC Bank's 1.8 million digital customers in Singapore have been able to use the SingPass Mobile app as an alternative login to access the full suite of digital banking services via the OCBC Mobile Banking app or Internet banking.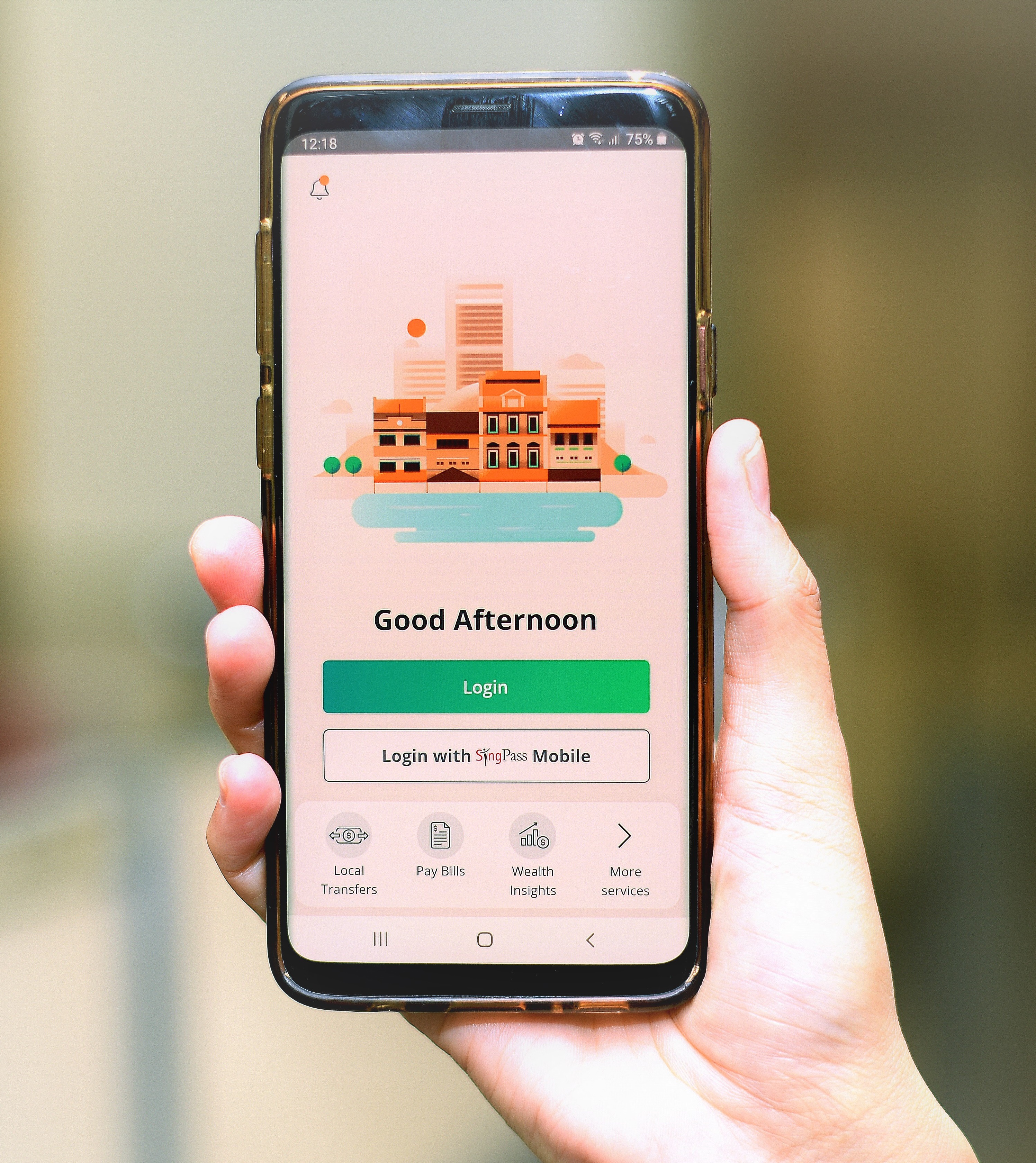 Using SingPass Mobile as an alternate login will especially benefit customers who currently use an access code and PIN instead of fingerprint or facial biometrics to log in to OCBC Bank's digital banking platforms. The need to remember multiple access codes and PINs is eliminated, while enabling customers to securely access digital banking services. This market-leading service has been enabled for OCBC Bank customers by integrating digital banking access with Singapore's National Digital Identity (NDI) platform.
SingPass Mobile login will further accelerate digital banking adoption
Since the Covid-19 outbreak in Singapore, digital transactions among OCBC Bank customers have surged as the pandemic accelerated digital adoption.
Close to 100,000 'digital debutantes' have started using digital banking for the first time this year. There has been a 40% jump in digital transactions performed by those aged 50 to 64, while those above 64 years old clocked a 48% increase in digital banking transactions from last year.
Managed by the Government Technology Agency (GovTech), the SingPass Mobile app allows users to transact with over 60 government agencies online securely. More than 1.6 million Singapore residents today use the SingPass Mobile app to access government e-services including checking their Central Provident Fund (CPF) account balances, filing taxes and applying for public housing. Many now also use the app for SafeEntry logins at venues to facilitate contact tracing.
Mr Aditya Gupta, OCBC Bank's Head of Digital Business for Singapore and Malaysia, said: "Inclusion and accessibility have been core to our digital transformation narrative. I believe that offering SingPass – a trusted and widely used mode of digital authentication in Singapore – as an alternate login, will give more of our customers the confidence and convenience to bank with us digitally. We have partnered with GovTech to pioneer the co-creation of a trust ecosystem for Singapore's banking industry using the national digital identity platform, which will radically improve how our customers access and experience our digital services."
Mr Kwok Quek Sin, Senior Director, National Digital Identity, GovTech, said: "OCBC Bank is known for many of its innovative efforts in leading digital transformation and has been one of the early adopters of our National Digital Identity strategic platform. This month, OCBC Bank has started to offer SingPass as an alternative login to access their digital banking services. We are happy to be able to support our Singapore companies in their exciting digitalisation journeys. GovTech will continue to push out more products on the national digital identity platform to help businesses enhance digital service delivery, improve customer experience and bring about productivity gains."
Mr Sopnendu Mohanty, Chief FinTech Officer, Monetary Authority of Singapore (MAS), said: "The foundation of digital economy is the seamless integration of public digital infrastructures with essential services. We are delighted that OCBC Bank has broken new ground by enabling access to financial services with SingPass Mobile. MAS has been working closely with the financial industry to foster adoption of foundational digital infrastructures such as national digital identity for seamless integration with the growing digital economy. With the convergence of SingPass Mobile, MyInfo, and PayNow, customers can open bank accounts, access banking services and make payments online seamlessly yet safely."
OCBC Bank at the forefront of leveraging National Digital Identity infrastructure for digital banking services
In June 2018, OCBC Bank became the first in Singapore to enable instant deposit account opening using MyInfo – the national data repository – integrated with the Bank's proprietary real-time digital know-your-customer process (e-KYC).
A year later, in May 2019, OCBC extended the use of MyInfo and OCBC Bank's e-KYC process to online applications for cards, personal loans and lines of credits. This was then extended to home loans and car loans in Feb 2020.
Within three months of launch, digital card applications grew 3.5 times, while online personal loan applications grew nine-fold. Three in 4 credit cards are acquired digitally, and 3 in 4 deposit accounts are opened digitally leveraging MyInfo. The integration of MyInfo in the digital product application process has enabled OCBC Bank to offer 60-second approvals for car loans, and 60-minute approvals for home loans. One in 3 home loans and 2 in 3 car loans have been approved and accepted via this process within four months of its launch.
How to log into OCBC Internet and Mobile Banking with SingPass Mobile
To use SingPass Mobile to login to OCBC Bank's digital banking platforms, customers must download the SingPass Mobile app if they have not already done so.
For Internet Banking access:
Step 1: On the OCBC Bank Internet Banking login screen on a desktop, click on 'SingPass Login'. A QR code will appear on the screen.
Step 2: Open the SingPass Mobile app on a mobile device, tap on the 'scan' icon, and scan the QR code displayed on the desktop screen.
Step 3: Authenticate personal identity using the SingPass Mobile app to login
For Mobile Banking access:
Step 1: Open the OCBC Mobile Banking app and tap on 'Login with SingPass Mobile'
Step 2: A SingPass Mobile QR code appears. Tap on the QR code.
Step 3: Authenticate personal identity using the SingPass Mobile app to log in