SingHealth and the Agency for Science, Technology and Research (A*STAR), with support from the Integrated Health Information Systems (IHiS), have co-developed a chatbot known as "Doctor Covid" to improve care for COVID-19 patients at community care facilities. Hosted on the Telegram mobile application, Doctor Covid boasts a variety of features in the patients' native languages to facilitate effective communication, active engagement and interaction, and to support the medical and operations teams in close monitoring of their health and well-being.
Community care facilities house COVID-19 patients who are clinically well and no longer require acute care, as well as newly confirmed cases with mild symptoms who do not require hospital care, the majority of whom are migrant workers presently. Providing personalised, one-to-one care to large groups of residents at these recovery facilities can be challenging, and this is compounded by operational challenges such as language barriers between the medical teams and migrant workers.
Doctor Covid has been purposefully developed and used at such facilities managed by SingHealth at Singapore EXPO and D'Resort since May 2020. It complements the care provided by onsite medical teams to ensure that each resident is able to access the right care anytime they need, from identifying symptoms such as chest pain or shortness of breath early, to supporting their psychosocial well-being by allaying any uncertainties or anxieties they may face during their recovery. To date, more than 3,000 migrant workers staying at SingHealth-managed community care facilities, have subscribed to the chatbot.
Key Features Of Doctor COVID
A*Star researchers worked with the SingHealth team to develop and implement the following features:
01. Multi-lingual platform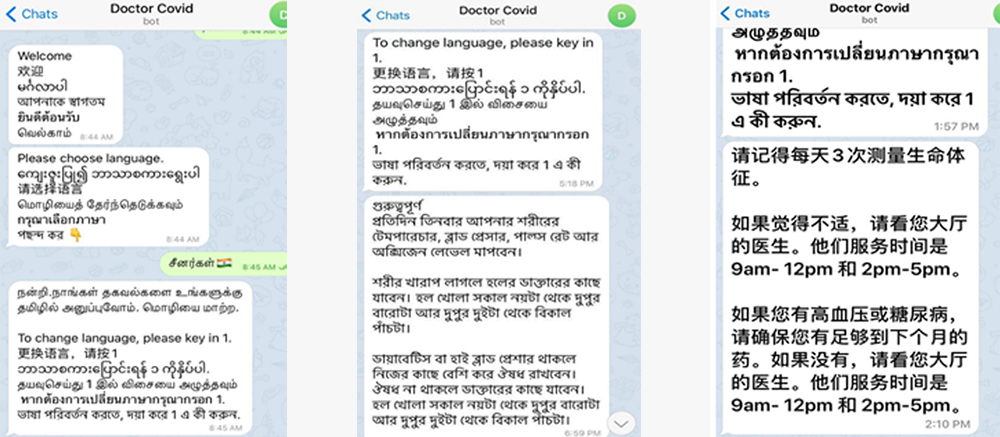 Doctor Covid features up to seven different languages that migrant workers can subscribe to – English, Mandarin, Malay, Tamil, Bengali, Thai and Burmese. Currently, the languages enabled are English, Mandarin, Malay, Tamil and Bengali. Having migrant workers interact with the chatbot in the languages they are familiar with keeps them engaged and ensures that they receive and understand the content that is communicated to them. It also ensures greater accuracy in the information they submit via the chatbot, such as responses to questions about their well-being.
02. Broadcasting of critical information and reminders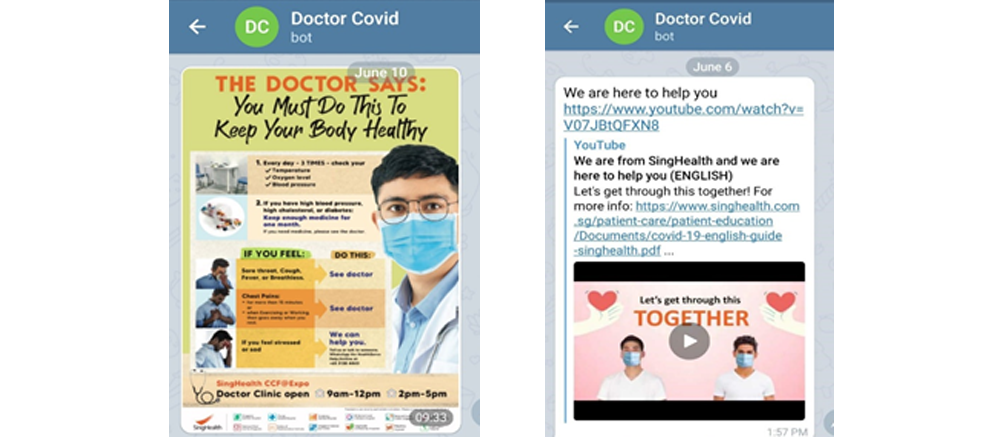 Doctor Covid disseminates critical information including medical, nursing, and operational announcements, as well as reminders to submit vital signs inputs such as daily temperature and blood pressure readings. These are communicated on a daily basis to ensure that the workers are kept abreast of the situation and understand their recovery journey.
03. Sharing of social content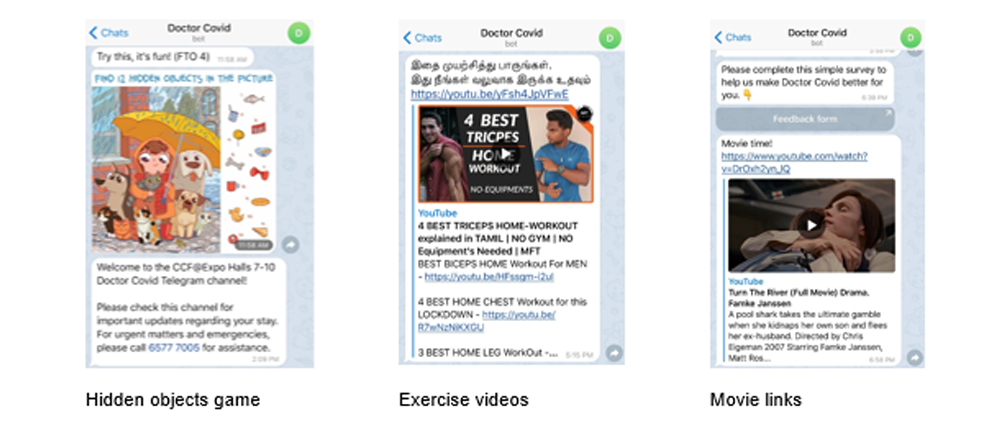 The chatbot helps keep residents engaged and entertained during their stay through the sharing of social content such as movies, exercise videos, simple games and even video clips featuring words of encouragement from celebrities in various languages. These materials, which include original content developed by SingHealth staff, are carefully curated, and where necessary, translated by staff volunteers, prior to dissemination.
04. Clinical and psychosocial surveillance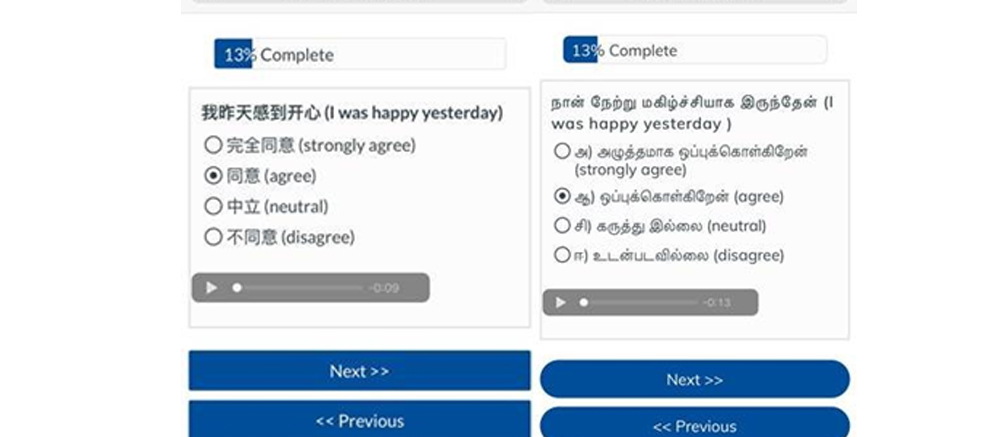 Migrant workers use Doctor Covid to respond to questions that assess their clinical risk factors and mental well-being. This is done through easy-to-understand questionnaires with audio capabilities on a daily basis, or at specific milestone stages of their stay at the facility. For example, on Day 7 and Day 14 of their stay, they respond to Doctor Covid's questions such as "Are you scared?", "Are you sad?" to assess their holistic well-being. The data is then sent to SingHealth's patient experience teams who ensure timely psychosocial intervention where required. The data collected will also facilitate further AI-driven diseases triaging, progression and clinical outcome prediction.
[Next phase] Conversational AI chatbot
Using artificial intelligence (AI) such as machine learning, natural language processing and optical character recognition, Doctor Covid will be able to capture, analyse and respond to complex COVID-19-related questions posed by migrant workers in their respective native languages. This will be launched later this year.
Beyond enhancing care and communication, Doctor Covid helps minimise the risk of viral transmissions. With communication and monitoring of residents taking place virtually, medical teams reduce prolonged face-to-face contact with COVID-19 patients and the time spent in the "red zone" of the care facilities, while ensuring that comprehensive care is continued.
The data collected by Doctor Covid, which is anonymised to ensure data privacy, can also be used to identify trends, risk indicators, clinical outcomes, as well as evidence-based practices as a study into the COVID-19 pandemic and care of migrant workers, as well as to prepare for future infectious disease health emergencies. Moving forward, data from Doctor Covid may be integrated with other COVID-19 data platforms and registries to form a big data platform with AI analytical tools for operational and research purposes.
"The experience of being diagnosed with COVID-19 can be a stressful one, especially for migrant workers who are uncertain as to what to expect and may face language barrier issues with the healthcare workers caring for them. At the same time, it is no easy feat for medical teams to take care of large groups of residents in community care facilities. Doctor Covid leverages innovation and technology to better reach out, engage and care for these residents, while allowing healthcare professionals to gain better insight into how each resident is doing in their recovery. We will also be deepening the sophistication of the platform by incorporating AI mechanisms into Doctor Covid and establishing a stronger two-way interaction with residents, while at the same time be able to utilise the data collected for research purposes," said Franklin Tan, Director, Office for Service Transformation, SingHealth.
"We are pleased that our capabilities in system architectural design, software engineering, and data science were able to support SingHealth in its sterling efforts to provide quality care to recovering workers at the community care facilities. Through close collaboration, A*STAR and SingHealth were able to harness digital tools and artificial intelligence to develop this tool to facilitate better communication and engagement with the recovering workers, as well as generate data insight for the medical teams," said Dr Rick Goh, Department Director, Computing & Intelligence, Institute of High Performance Computing (IHPC), A*STAR.
"This is a good example of the research, patient service and technology teams working collaboratively, at speed, to address a patient need. IHiS is proud to be part of the team," said Steve Lee, one of the advisors to the project team, and Deputy CEO, IHiS.
Doctor Covid has also been well-received by residents staying at the community care facilities. Of more than 167 patients surveyed, 97% were satisfied with the chatbot. 73% found the daily medical reminders useful and 78% appreciated the health and wellness tips. More than 84% also indicated that they felt cared for because of the chatbot. Mr Velusamy Santhosh, who has been staying at [email protected] for about two weeks said, "I'm very happy with Doctor Covid as it is very useful. It reminds me to monitor my health, and I follow its health and wellness tips. I feel safe and well taken care of with Doctor Covid."
---
ABOUT SINGAPORE HEALTH SERVICES (SINGHEALTH)
The SingHealth Duke-NUS Academic Medical Centre draws on the collective strengths of SingHealth and Duke-NUS Medical School to drive the transformation of healthcare and provide affordable, accessible, quality healthcare. With over 40 clinical specialties, a network of acute hospitals, national specialty centres, polyclinics and community hospitals, it delivers comprehensive, multi-disciplinary and integrated care. Beyond hospital walls, SingHealth works closely with community care providers to ensure patients remain well-supported after their discharge and to empower the population to stay healthy and age in place.
For more information, please visit: www.singhealth.com.sg
MEMBERS OF THE SINGHEALTH GROUP
Hospitals (Tertiary Specialty Care):
Singapore General Hospital, Changi General Hospital, KK Women's and Children's Hospital, and Sengkang General Hospital
National Specialty Centres (Tertiary Specialty Care):
National Cancer Centre Singapore, National Dental Centre Singapore, National Heart Centre Singapore, National Neuroscience Institute, and Singapore National Eye Centre
SingHealth Polyclinics (Primary Care):
Bedok, Bukit Merah, Marine Parade, Outram, Pasir Ris, Punggol, Sengkang, Tampines, Eunos (expected completion: 2020) and Tampines North (expected completion: 2022)
SingHealth Community Hospitals (Intermediate and Long-term Care):
Bright Vision Hospital, Sengkang Community Hospital, and Outram Community Hospital
ABOUT A*STAR'S INSTITUTE OF HIGH PERFORMANCE COMPUTING (IHPC)
A*STAR's Institute of High Performance Computing (IHPC) was established in August 1998 to provide leadership in computational modelling, simulation and AI to solve major scientific, industrial and societal challenges. It seeks to promote and spearhead scientific advances and technological innovations through multidisciplinary R&D, and to develop impactful applications to further economic growth and improve lives.
Our research focuses are in computing science and AI; large scale complex systems modelling; social and cognitive computing; computational engineering mechanics, fluidic dynamics, electronics and photonics, materials science and chemistry. These core capabilities enable IHPC to tackle real-world challenges in physical and human systems, such as in manufacturing, energy, transportation and urban systems, environmental sustainability and healthcare. For more information, visit www.a-star.edu.sg/ihpc
ABOUT THE AGENCY FOR SCIENCE, TECHNOLOGY AND RESEARCH (A*STAR)
The Agency for Science, Technology and Research (A*STAR) is Singapore's lead public sector R&D agency, spearheading economic-oriented research to advance scientific discovery and develop innovative technology. Through open innovation, we collaborate with our partners in both the public and private sectors to benefit society.
As a Science and Technology Organisation, A*STAR bridges the gap between academia and industry. Our research creates economic growth and jobs for Singapore, and enhances lives by contributing to societal benefits such as improving outcomes in healthcare, urban living, and sustainability. We play a key role in nurturing and developing a diversity of talent and leaders in our Agency and research entities, the wider research community and industry. A*STAR's R&D activities span biomedical sciences and physical sciences and engineering with research entities primarily located in Biopolis and Fusionopolis.
Please follow and like us: