Singapore Management University (SMU) and Duke-NUS Medical School (Duke-NUS) are offering a new SMU-Duke-NUS Medicine Pathway for outstanding students across the six schools at SMU who plan to pursue a career in medicine. The pathway aims to nurture future clinicians who can help shape the healthcare ecosystem with their perspectives and knowledge of law, social sciences, business or computing. Students will pursue a four-year undergraduate programme at SMU and gain a conditional admission to Duke-NUS' Doctor of Medicine (MD) programme to train in medicine at Duke-NUS.
Professor Timothy Clark, Provost of SMU said, "SMU is delighted to partner with Duke-NUS to offer this medicine pathway to our students who aspire to become doctors of a different kind – those who are not only trained in medicine, but also in their chosen undergraduate discipline. Increasingly, societal challenges have become multi-dimensional, and solutions are often to be found at the intersections of different disciplines. We are confident that graduates of this pathway will be equipped with the skills to contribute meaningfully to tackle the healthcare challenges of today and in the future."
Professor Thomas Coffman, Dean of Duke-NUS said, "Duke-NUS is excited to offer this new pathway, which gives undergraduates of diverse disciplines access to our innovative MD programme. Here, they can become adept at channelling their varied interests towards shaping the future of healthcare with precision and agility. This is what underscores our Clinicians First, Clinicians Plus distinction, where Duke-NUS clinicians get the opportunity of becoming leaders, innovators, educators and more."
In addition to having a strong academic record, prospective students will be assessed on leadership experience and community service, strong communication skills, as well as a strong interest to pursue medicine. Students accepted on this pathway will take the required courses for their SMU undergraduate programmes. Other than the required SMU Core Curriculum and their specific Major courses, they are encouraged to take the second major in Health Economics and Management (HEM), which covers areas that are of increasing importance in the healthcare sector, including Health Economics, Health Systems and Policy, Introductory Data Analytics in Healthcare, and Healthcare Management. They will also have an opportunity to take Health Economics and Management Work-Study Elective, which enables students to have a first-hand experience in healthcare sector through a six-month internship.
The new SMU Core Curriculum, will initiate undergraduates into their journey to become well-rounded graduates who have an independent mind, are dependable in deeds, think deeply and broadly, and who act to create value at home and abroad.
Over at Duke-NUS, students will be mentored and involved in enrichment activities to prepare them for the MD programme, while still pursuing their undergraduate studies at SMU. A pre-medical course will provide students with the foundational knowledge, skills and attitudes to help them excel in their clinical and scientific training. Duke-NUS has designed a summer programme to provide insights into graduate entry medicine, roles of medical professionals and medical practice in Singapore. A shadowing programme pairs students with a Duke-NUS faculty and practising doctor who can provide insights into the medical profession; as well as medical specialities workshops, advising sessions with Duke-NUS faculty, and community projects. SMU students will also have the opportunity to observe how Duke-NUS students and faculty train within the SingHealth Duke-NUS Academic Medical Centre (AMC), and how this infrastructure allows the development of outstanding clinical education and research collaborations that translate to better outcomes for patients.
Students who complete the pathway will graduate with a Bachelor degree from SMU, and a Doctor of Medicine degree from Duke-NUS.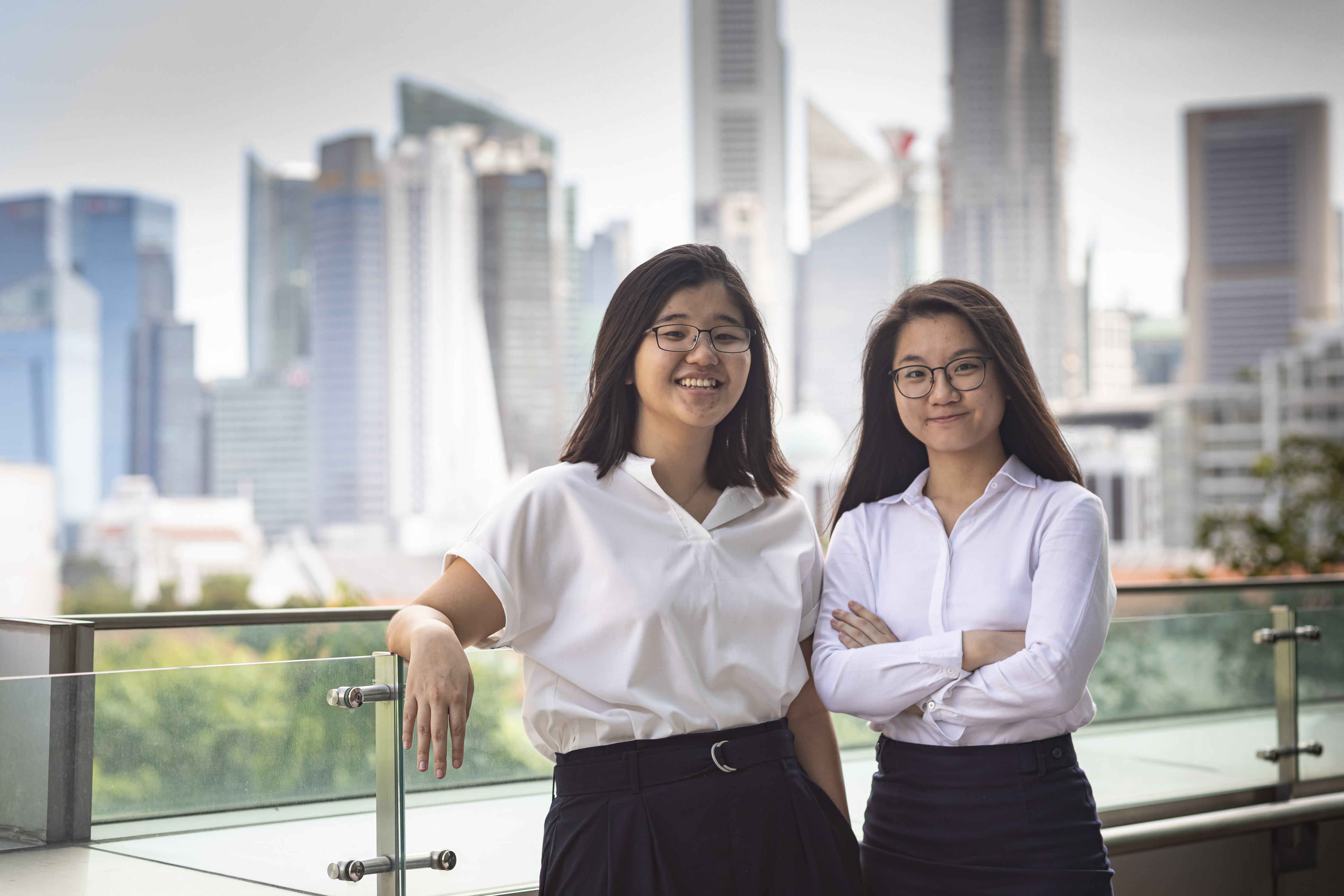 Maxine Hong (right), a first-year student at SMU School of Law who has been accepted by the SMU-Duke-NUS Medicine Pathway said, "The Law intertwines with and underlies all aspects of our lives, while Medicine cares and constantly searches for new and better ways of treating patients. Understanding the relationship between the two fields is crucial to building a healthcare ecosystem of the future that is able to meet the evolving needs of society. This pathway presents a valuable opportunity for me to pursue my interests in both fields, and will equip me with the knowledge, soft people skills and a deeper appreciation to tackle the challenges of today and tomorrow."
Geraldine Lee (left), a first-year student at SMU School of Information Systems who has also been accepted by the SMU-Duke-NUS Medicine Pathway said, "My interests in computing, learning about the human physiology and assisting others make this pathway an ideal choice for me. Technology permeates every aspect of our society, and contributes significantly to the advancement of medicine. With SMU's holistic education to nurture enterprising individuals who are equipped with deep knowledge in selected domains and possess a passion to give back to society, as well as Duke-NUS' innovative "Clinician First, Clinician Plus" curriculum, I look forward to blending and assimilating my knowledge in Computing and Medicine to contribute meaningfully to society."