Looking for the best purifier to keep the air quality of your home in top shape? Here are some of our picks perfect for the task.
This air purifier is equipped with a Germ Defense filter which traps airborne bacteria, mold, spores, and other virus-carrying particles.  This is paired with a Toxin Absorber Filter which traps volatile organic compounds and other chemicals that may be harmful when inhaled.
The Pet Allergy Filter is perfect for those who cannot be around pet hair and  dander. Meanwhile, there is an Odor Remover Filter to eliminate odor from pets, cigarettes, and smoke from cooking.
Given the construction of this purifier, it can be used as a standalone or can also be wall-mounted if preferred.
Another cool feature of this device is the light sensor which dims the lights of the purifier when it detects dark conditions so that it won't disturb your sleep.
Buy this on Amazon.
This purifier is made for large rooms, capable of working on rooms up to 1,256 square feet in area. Even at this size, this purifier can clean the air two times each hour. The Air Mega Max2 Filter is designed to capture up to 99.99% of particles (as small as 0.3 microns) in the air.
The brightly colored LED is not just for aesthetic — it notifies you how clear or dirty the indoor air is at a given time. The operating noise of this device is also very silent even in the highest setting. The fan speed of the purifier adjusts automatically based on the rooms air quality.
Buy this on Amazon.
This simple-looking purifier is powered by Swedish filter technology which allows it to capture 99% of the airborne pollutants. The activated carbon in the filter also eliminates the odor inside the room.
This purifier was made with your maximum comfort in mind. It silently operates in the background while keeping your indoor air clean, you wouldn't even notice it most of the time. It is also energy-efficient, so there's no need to worry about it pulling up your electricity  bills.
Buy this on Amazon.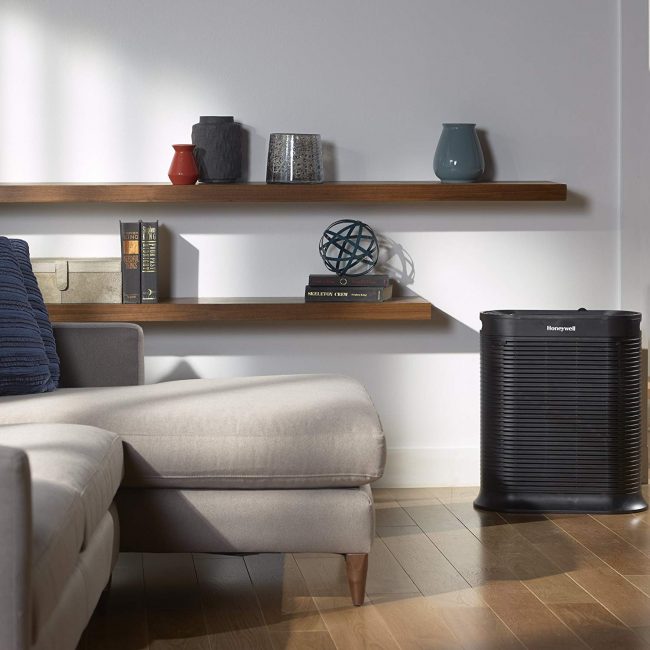 This elegant purifier will eliminate 99.7% of the pollutants (as small as 0.3 microns) as well as the odor inside your home. It can handle a decent room area of 465 square feet.
There are electronic tap controls to toggle between the fan speeds, which will allow you to clean the air in your room for as many as five times per hour. There is also an electronic indicator that indicates when your filter needs to be replaced. It also comes with a timer so that you can purify the air in the room even before you arrive.
Buy this on Amazon.
This compact  purifier is meant for medium to large sized rooms (up to 361 sq. ft). It boasts a four-stage filtration system which will capture up to 99.97% of particles as small as 0.3 microns in size. That means typical allergens, sources of odor, and volatile organic compounds will all be cleared out in your room.
It also comes with a LED indicator to notify your about the quality of air at a particular point in time. It also comes with a time and a filter lifetime indicator.
This device also features an automatic-Eco mode switch when there is no pollution detected for 30 minutes straight, saving your energy. It also runs quietly in the background. Even at the highest setting, the noise is fairly negligible.
Buy this on Amazon.
This device from Levoit has a three-stage filtration system which promises to filter out 99.97%  of potential allergens of sizes as small as 0.3 microns. The carbon filter will also eliminate foul odor.
It is also 100% ozone free, making it an environment-friendly purifier. The Smart Auto Mode automatically suggests the appropriate fan speed to make your air purification more efficient.
There is also a Sleep Mode which sets your purifier to the lowest, quietest setting so that you can have a clean air and a good night's sleep. It also comes with a dedicated timer so that you can schedule your air purification.
Buy this on Amazon.
Just like the other models in this line up, this purifier guarantees to remove up to 99.97% of particles of sizes as small as 0.3 microns. It has a True-HEPA filter, washable carbon filter, and Plasma Wave — a permanent filter to break down odor, vapors, and allergens.
There are smart sensors that adjusts the purifier's configurations depending on the air quality as well as the time. It is suitable for rooms as large as 360 square feet. It also comes with a dedicated remote control so that you that you can configure it from afar.
Buy this on Amazon.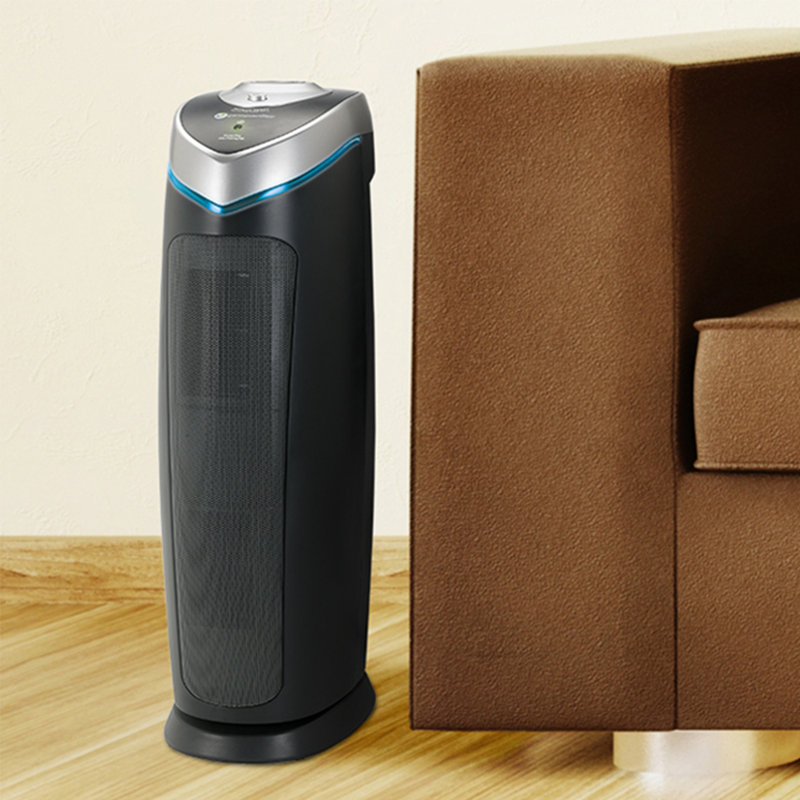 Concluding this list is a model from GermGuardian. This 4-in-1 purifier, just like the others, can eliminate up to 99.97% of the potentially harmful particles as small as 0.3 microns. It also has a UV-C light which helps kill airborne viruses.The activated charcoal filter on the other hand, eliminates odors and cooking fumes.
It also features an ultra-quiet, programmable sleep mode to tune down the noise during your sleep  hours.
This is the most affordable in our list, but it  hugely cuts back in the range of the device. This lightweight purifier is perfect for smaller rooms (up to 167 square feet). Simple, sleek, and stylish, this purifier is perfect for almost any home environment.
Buy this on Amazon.