Debates over historic preservation often run into a problem: There's plenty of data to support economic arguments, and much less to address questions of cultural value. A research team in Singapore wants to change that.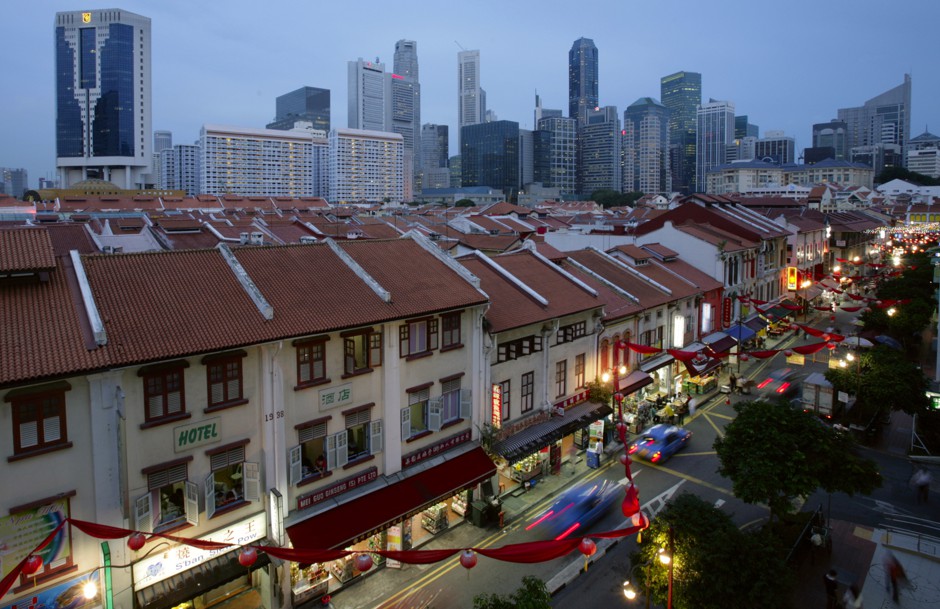 To get a glimpse of Singapore's past, take a stroll down Tiong Bahru, the nation's oldest housing estate. Built in the 1930s, it's still home to both Singapore's first wet market and last remaining World War II air raid shelter. Today, it's one of the few neighborhoods where high-rises haven't completely taken over the skyline, though the signs of gentrification—posh cafes, Western-themed restaurants, and trendy boutiques—have disrupted the historic fabric of the neighborhood.
Tiong Bahru is an example of the tension between historic preservation and economic development on the small island of 5 million people. Today, Singapore is the epitome of modernity: the gleaming towers, the multi-color lights illuminating the night sky, and the radical architecture that other cities can only dream of. And the landscape is constantly changing to meet new demands, so much so that there's barely room for the older buildings.
Old cemeteries are dug up and national libraries and theaters are torn down to make way for highway projects and new apartments—all in the name of progress. "We can still remember the things we did as kids, but there's no physical substance that we can anchor those memories to," says Siew Ann Cheong, a complexity scientist at the Nanyang Technical University.
Indeed, Singapore's government has never really been enthusiastic about historic preservation, and any efforts to hold on to the physical relics of the nation's past often become mired in political disputes. As my colleague Mimi Kirk reported in June, even the fate of the estate belonging to the late founding prime minister Lee Kuan Yew—himself an outspoken critic of preservation—is embroiled in a bitter and politically charged family feud.
Lost in those debates are the more constructive conversations over the actual cultural value of a site, and whether it's worth preserving to the people of Singapore. But Cheong and his colleague, historian Andrea Nanetti, think they have found a scientific approach to assessing cultural value. Their method is rooted in complex theory, the study of systems comprising several interacting parts and whose behavior is hard to predict and, therefore, control. They call their approach SHIFT—Sustainable Heritage Impact Factor Theory—and they believe it can give cultural value its due role in often-messy debates over preservation and redevelopment.
Cultural value is arguably a subjective matter, but imagine that a value of a park or a marketplace can be measured through human experiences. Cheong and Nanetti say politicians and urban planners often focus too much on physical space. But heritage should be thought of as a complex system involving new and old residents—the "agents"—interacting with each other, the landscape, and the surrounding landmarks. As they describe in a paper detailing their theory, heritage is also an ever-evolving network:
This complex network evolves with time, as old agents are removed and new agents are added. Existing links between agents can also be removed, and new links added. As these social changes are happening, we can also have the removal of old landmarks and the addition of new landmarks
The researchers argue that urban planners and leaders need to evaluate the tangible aspects (the physical buildings or sites), the intangible elements (human-to-human interaction), and the natural surroundings. In fact, it's these patterns of interactions—and how they spread throughout a city and transform from one generation to the next.
So how do you measure the strength of these interactions over time, and predict how certain development projects might affect them? For starters, look at data that is already abundant and readily available. "What we are trying to measure here is the depth of connection between the people and the [customs] and places," says Cheong. "If we value this particular building, how much do we value it? The natural way of measuring that would be to see whether people write or paint about this." Or take lots of Instagram photos (because, you know, Millennials).
This part of the analysis would look at how often a particular site is featured in traditional media. Things like paintings and photographs, poems and paintings, or even songs. Then it would take into consideration the site's prominence in social media: How many Instagram photos, for example, or YouTube videos were shot in that area? Not just counting them, but also analyzing the quality of each medium. A painting takes more time to make than an Instagram photo, so the two would rank differently in the evaluation.
Cheong acknowledges the limitations of such method. A cemetery may not exactly be an inspirational backdrop for art despite its cultural significance by other measures, and it wouldn't have the abundance of data for, say, a national monument. And perhaps the abundance of photos taken by tourists may not necessarily reflect what the local community wants.
Cheong says he doesn't yet have the answers to correct for those limitations. There's still a bunch of revealing data that has never been thoroughly collected, like statistics about population cross sections or local tourism. Though the researchers say it's not too late to start now.
But this is only a small part of a larger conversation that needs to take place before developers embark on a project. At the very least, thinking of heritage and cultural significance in this framework brings out the questions that need to be asked: What stories need to be told to highlight a historic site's significance, and how do they weigh against the need to build new towers? Instead of razing an entire town for a new project, are there certain areas that should be preserved? And if a development project must move forward, how can it be done in a way that is least disruptive to the historic fabric of the neighborhood?
This approach also helps lay the groundwork for making historic preservation less of a political debate and more of a question forbig data. "Our point is: how can this evaluation become machine readable, and thus potentially empowered by artificial intelligence and other computer tools?" says Nanetti. "The most important thing is to put on the table data and information in a way that decision makers can foresee part of the consequences in taking one decision or another."
Nanetti and Cheong hope to test their approach in Singapore. But because of the political sensitivity around its heritage policy, the duo say they'll start by conducting case studies with partners in Oman and hopefully return with positive results.
Linda Poon
This article originally appeared in CityLab.