SWITZERLAND, GENEVA – Singapore announced that its work in Artificial Intelligence (AI) Governance and Ethics has won a top award at the prestigious World Summit on the Information Society (WSIS) Prizes1. 
The winners of the 18 categories2 of the WSIS Prizes were announced today during an award ceremony at the annual WSIS Forum held in Geneva, Switzerland. Singapore won in the "Ethical Dimensions of the Information Society" category, beating four other finalists3 across the globe.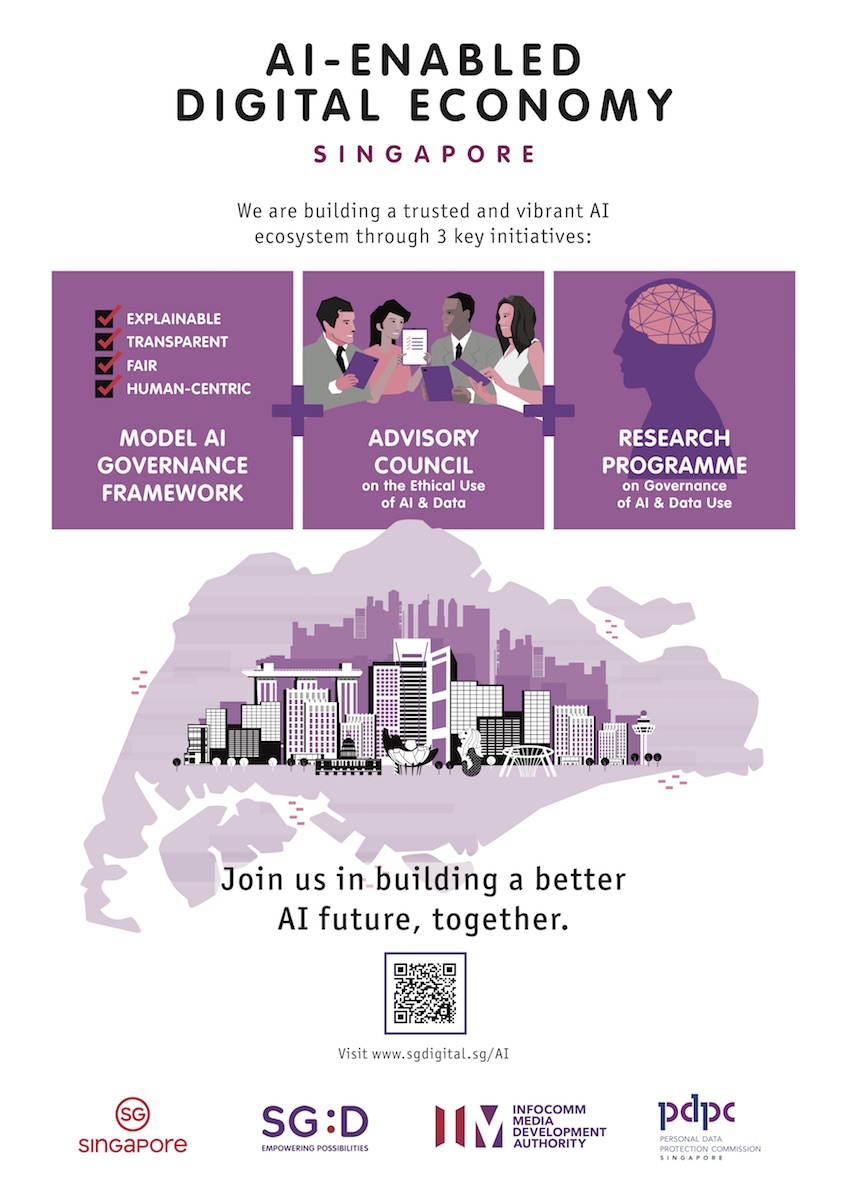 The WSIS Prizes recognise outstanding digital projects globally, which foster socio-economic development across categories such as e-government, e-environment, e-science and media, and ethics in IT. Info-communications Media Development Authority (IMDA) Assistant Chief Executive (Data Protection and Innovation) Yeong Zee Kin received the prize at the ceremony in Geneva.
Singapore's AI Governance and Ethics initiatives aim to build an ecosystem of trust to support AI adoption. These include:
(i) Asia's first Model AI Governance Framework released in January 2019;
(ii) an international and industry-led Advisory Council on the Ethical Use of AI and Data formed in June 2018; and
(iii) a Research Programme on the Governance of AI and Data Use established in partnership with the Singapore Management University in September 2018.
These initiatives advance Singapore's vision to be a leading Digital Economy and Smart Nation through balancing business innovation and consumer trust and confidence in adopting AI.
Minister for Communications and Information Mr S Iswaran said, "Singapore's win of the WSIS Award is affirmation of our approach that AI practices must be transparent, explainable and fair. These are important principles that will guide businesses in implementing AI solutions that are human-centric, while spurring innovation in a digital economy."
Mr. V K Rajah SC, Chairman of the Advisory Council on the Ethical Use of AI and Data congratulated the win. He said, "The Advisory Council congratulates Singapore's win. This award affirms Singapore's balanced and pragmatic approach towards AI governance. We look forward to working further with the Singapore Government in forming strong guidance which enable innovation while protecting consumer interests."
Artificial Intelligence (AI) has been identified as one of four emerging technologies essential to growing Singapore's Digital Economy – the other three being Cybersecurity, Immersive Media and the Internet of Things. AI Singapore was set up in May 2017 with an up to S$150 million fund to catalyse, synergise and boost Singapore's AI capabilities. The Infocommunications Media Development Authority of Singapore (IMDA) believes that it is important to assist industries in reaping the benefits of AI by driving understanding and adoption of its fundamentals and possibilities across sectors.
AI as an enabler in the Digital Economy
Singapore's approach towards AI maximises the Republic's unique strengths through building a strong, trusted and collaborative regulatory environment.
IMDA, in collaboration with AI Singapore, has announced initiatives in support of its AI strategy to:
1. Drive industry adoption of AI, and promote understanding of the benefits from implementing AI;
2. Build a vibrant ecosystem of AI developers and companies, users and suppliers, and talented researchers and engineers;
3. Identify specific AI leadership areas to grow industry and R&D capabilities; and
4. Provide clarity and review relevant regulations for an AI-conducive business environment.
1 The World Summit on the Information Society (WSIS) Forum is a global United Nations' multi-stakeholder platform that is co-organised by the International Telecommunications Union (ITU), United Nations Educational, Scientific and Cultural Organization (UNESCO), United Nations Development Programme (UNDP) and United Nations Conference on Trade and Development (UNCTAD).
It represents the world's largest annual gathering of the 'ICT for development' community, which provides an opportunity for information exchange, knowledge creation and sharing of best practices, while identifying emerging trends and fostering partnerships, taking into account the evolving information and knowledge societies.
The WSIS Prizes is a unique international contest to evaluate and recognize individuals, governments, civil society, local, regional and international agencies, research institutions and private sector companies for outstanding success in implementing development-oriented strategies that leverage the power of ICT as an enabler of development. The WSIS Prizes were started in 2012.
2 There were 1140 nominations sent in globally. Of these, 20 projects per category were selected to move on to the second phase of online voting. The top five voted Champions were then judged by an expert panel before the winner for each category was selected.
3 The other contenders were "Mobile based age verification before marriage registration to stop child marriage" from Bangladesh; "Datasense – Human-Free GDPR Compliance and Data Security" from the USA; "Why do I exist" from the USA; and "Women/Research/Data" from Kenya.
Source: IMDA