Singapore startup company NEO Aeronautics reveals a flying vehicle, Crimson S8, in an unveiling last April 25, 2019.
How will it work?
Crimson S8, to be tested in the United States next year, is designed to be a one-seater. NEO Aeronautics founder Neo Kok Beng also said that it is created for low-level mobility, allowing door-to-door urban transportation. Right now, here are its reported capabilities:
Flight Altitude: 15 meters [49 feet]
Maximum time of flight: 20 minutes
Maximum payload: 100 kg [220 lb]
Maximum speed: 100 kph [62 mph]
Can be manually operated or run in autopilot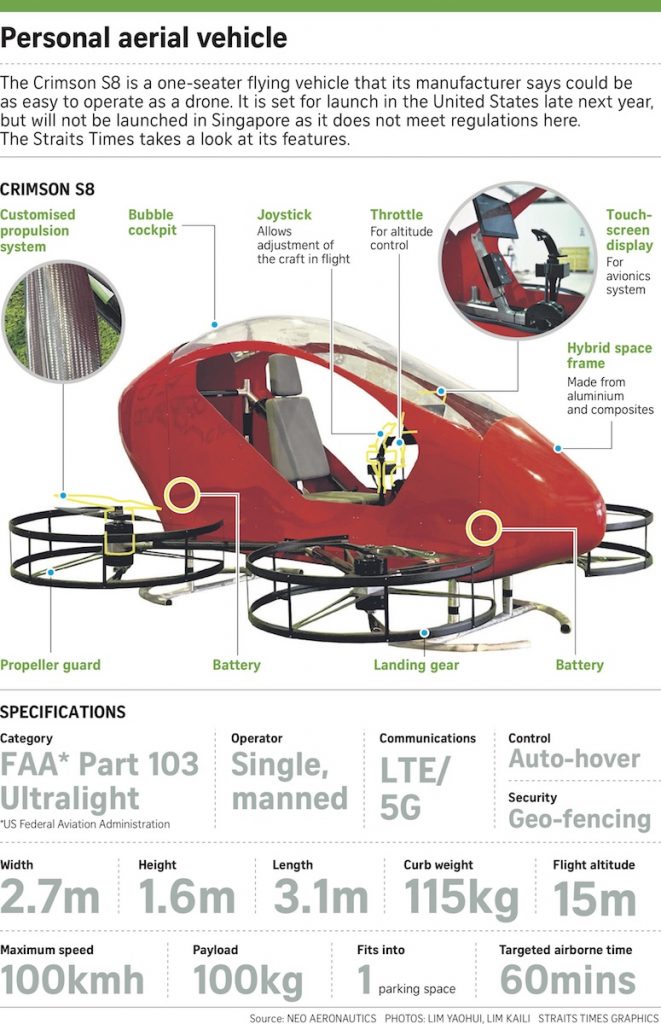 Crimson S8 is intended to be offered through a membership scheme because its steep price won't let everyone purchase it.
In the US where it is supposed to be initially released, a licence won't be required to drive it. However, NEO Aeronautics does require pilots to undergo a two-hour training and to be at least 16 years old.
Is it safe to drive?
Right now, Crimson S8 is not ready for human passengers. It is capable of autonomous flight, however.
Is this the first attempt on making flying vehicles?
No. Boeing has a working prototype for an air vehicle released earlier this year. Last year, a German startup company Volocopter also showcased its flying vehicle, Volocopter VC200.
Why not have these vehicles in Singapore?
Singapore aviation regulations will not permit the launch of Crimson S8. This is also why the United States was selected as the location for the launch of the flying vehicle.
What developments should we look forward to?
We should wait for the Crimson S8 to of course be capable of accommodating human passengers. The company is also working on increasing the time that the vehicle can remain in flight. Changes in the regulations should also be looked forward to so that we can eventually fly these vehicles in the streets of Singapore.