With a wide array of networking sites and applications at our disposal, humanity is arguably at the most connected to each other than it has ever been. While this translates to instant communication to the people we care about, we are also rendered susceptible to people who utilize this connection to deceive and harm others.
Scams are proliferating nowadays. The social networks and their large user base serve as an easy and quick platform for most of these scammers. Some online scams seem too good to be true and can easily be spotted as a fraud but sadly, a lot still fall victim to these schemes. Most scammers typically target people for their money or personal information and all of us is at risk.
In Singapore, the top 5 scams (as of March 2019) which people fall into are:
E-commerce Scam
Loan Scam
Credit-for-Sex Scam
Internet Love Scam
Business Impersonation Scam
Singapore's National Crime Prevention Council (NCPC) offers a solution and public awareness to prevent being scammed through its website, ScamAlert.
ScamAlert
ScamAlert is a website created by the NCPC in line with their goal to promote public awareness about crimes, scams or extortions. NCPC also aims to encourage the notion of self-help in preventing crime.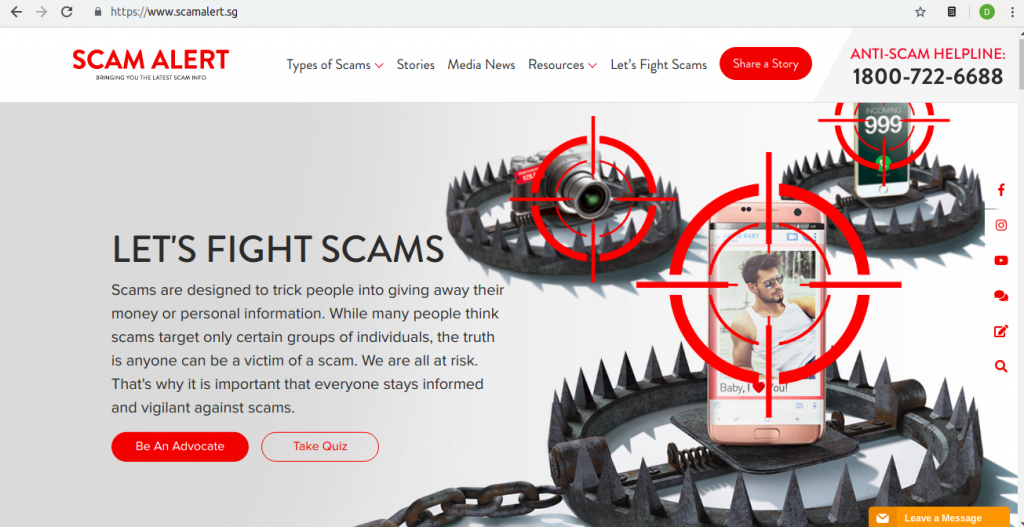 Get Acquainted
ScamAlert provides a list of scams which you can browse through. Each page has an outline of how each scam is typically executed so that users will be informed. The page also provides signs to look out for and ways to protect yourself.

Afterwards, you can also test yourself by taking their quiz on scams:
Be Aware
ScamAlert also publishes recent scam stories, which will give an idea on what types of scams are rampant.

Aside from having a list of scams, news updates are highly important especially if one doesn't have the time to go through the list.
If you yourself encountered a scam, you can also choose to share your story to warn others.
Be Involved
Aside from information dissemination, ScamAlert also encourages citizens to get involved. You can pledge to help ScamAlert promote awareness about scams.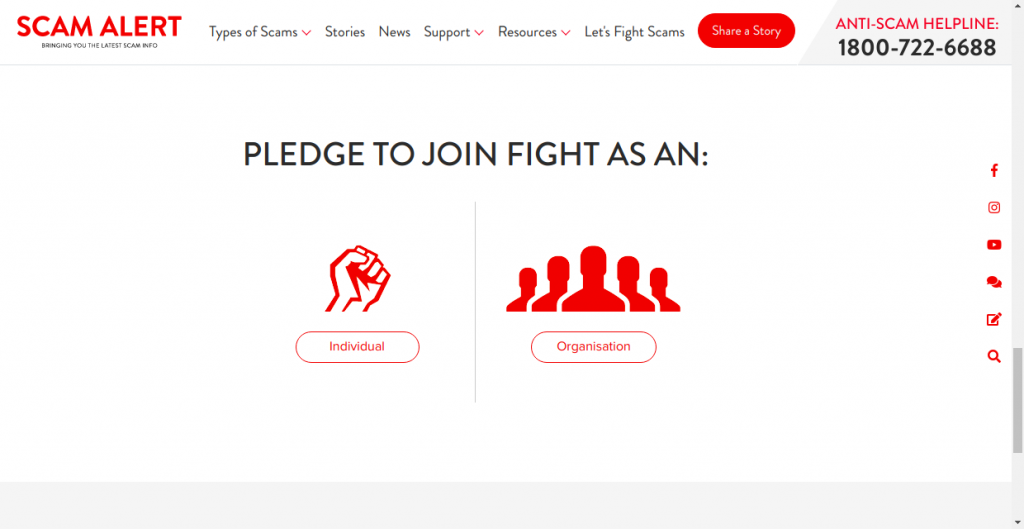 Time to Fight
With initiatives like ScamAlert and by equipping ourselves with knowledge about scams, we can fend off scams in no time. Let us tap the connections that we have to fight back and prevent other people from becoming victims.